Well, I'm guessing that Joe Biden wasn't proclaiming this "a big f-ing deal." Today, CNN reports that Obama signed an executive order on abortion funding limits:
Unlike the signing of the health care bill Tuesday — which was conducted under the glare of television cameras — Wednesday's event was closed to the news media.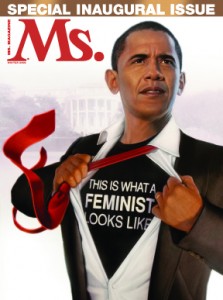 Of course it was. Our president should be ashamed. As should the DNC for their tireless use of the issue of abortion to corral women to vote for their candidates. Gig is up ladies – it ain't working. As one women emailed me today: "It's official. Both parties are pro-life."
I hate to say "I told you so" but we could have seen this train wreck coming over a year ago. We did. That is why when we founded The New Agenda, we decided to stay neutral on choice. It has nothing to do with our personal beliefs, but everything to do with the fact that this issue has been used to the political advantage of both parties to keep women divided and take away our power.
For those of you planning to attend our evening event on May 6th, titled A New Vision, you will hear a concrete plan to advance women and women's issues. A new way of doing things. Because clearly the status quo is not working.
Today feels like a replay of 2008. Heads of women's groups meant to protect choice are busy celebrating the fact that they got to go to the White House on Tuesday. Forget the fact of what happened days before as reported by Jane Hamsher:
The pro-choice Democrats, on the other hand? Well, the White House released the final language of the Executive Order on abortion to the press (before 4pm, per TPM). Shortly after that, they gave the final language to Dianna DeGette of the pro-choice caucus for her approval (at 4pm, DeGette told HuffPo) – just as Bart Stupak was giving his press conference to announce the agreement. DeGette said she read the final language and finally signed off on it as Stupak was gassing on before the cameras. The pro-choice caucus was furious about it.
That is why The New Agenda has and will stay away from the beltway. We will stay true to being a voice for all women.
So today we ask you this – for those of you new to our blog, please be open minded to the notion of unity.  In order to do so, we'll have to put aside the two most divisive issues for women:  political party and choice; and instead focus on what unites us (the other 85% of issues!).
And we'd ask as well that you all revisit the importance of getting more women into leadership roles.  We've been speaking out about President Obama's poor record on women's issues from the start – and now it is time for others who were extolling the virtues of policy over representation to take a second look:
Turns out he ain't Hannukah and Christmas and New Years rolled into one. And in the spirit of the upcoming holiday, I'd like to share a couple of possible titles to this article put forth by the TNA Think Tank – appropriate for the holidays this time of year:
"Just in time for Easter, Obama Tells Women They Put Their Ovaries in the Wrong Basket"
"Obama Will Passover Women"
I only wish this were funny. It isn't. But fret not – instead join us at The New Agenda. We are committed to fight this fight for all women. We have a strategy and a plan. And, we're just getting warmed up!
Join Our Email List
Be the first to know the latest initiatives from The New Agenda to improve the lives of women and girls.