The following piece was written in reaction to an op-ed published Thursday in the Washington Post titled As Colleges Cut Athletics, Title IX Does an Injustice to Men
I live in a university town and almost everything that happens in my community has ties to the university. The university's policies and its programs – especially its athletic programs – impact almost every aspect of our community. So when some years back it was announced that the women's track team would be facing cuts, and other women's programs curtailed, those of us who were feminist activists decided we needed to address this inequity.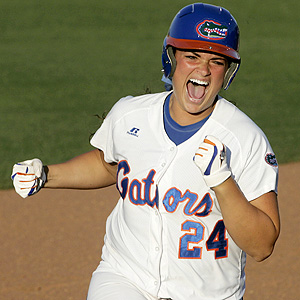 Several of us met with one of the woman coaches at the time and she sat down with us to discuss the situation. She, too, was saddened by the cuts in the women's athletic programs, while at the same time understanding that enrollment had dropped and cuts had to be made across the board. "Usually when the university is facing a financial downturn it's the women's programs, especially the athletic ones, that face the cuts," she told us, and I paraphrase what I remember from that time. "But it's not just the cuts in programs that we face," she continued, "there are numerous other challenges with which we grapple." Here's a few of the things I learned back then:
• Women's sports equipment was replaced less often than men's
• Few "top of the line" women's sports equipment was ever purchased
• Less money was spent on women's sports
• Women's sports events and practices had to be planned around the men's as the men's athletic teams received preference for the use of facilities
• Coaches for women's athletics were paid much less than those coaching men's
Admittedly this event took place a number of years ago and things have changed a bit in my town for the better. But while women's sports events do receive more promotion and a larger audience these days, the sports events for men's football and basketball are huge and well-attended and garner the university a lot more money and visibility, and our town a lot more visitors who spend their money in this uncertain economy.
Patsy T. Mink authored Title IX and worked hard for its passage. It was signed into law by President Richard M. Nixon June 24, 1972 and went into effect on July 1st of that year. Since that time several political figures have tried to amend the bill and it has faced multiple challenges. Patsy Mink died on September 28, 2002 and President George W. Bush ordered all flags to be flown at half mast "in honor of her contributions towards the equal rights of Americans." He also renamed Title IX as the Patsy T. Mink Equal Opportunity in Education Act.
From Wikipedia:
"Title IX of the Education Amendments of 1972, now known as the Patsy T. Mink Equal Opportunity in Education Act in honor of its principal author, but more commonly known simply as Title IX, is a United States law enacted on June 23, 1972 that states: "No person in the United States shall, on the basis of sex, be excluded from participation in, be denied the benefits of, or be subjected to discrimination under any education program or activity receiving Federal financial assistance."[1] Although the most prominent "public face" of Title IX is its impact on high school and collegiate athletics, the original statute made no reference to athletics."
For more information on this act, please visit the following:
http://www.dol.gov/oasam/regs/statutes/titleIX.htm
http://en.wikipedia.org/wiki/Title_IX
http://www.titleix.info/History/The-Living-Law.aspx
http://www.ed.gov/about/offices/list/ocr/docs/interath.html
http://www.titlenine.com/
Join Our Email List
Be the first to know the latest initiatives from The New Agenda to improve the lives of women and girls.