This post is part of a series profiling women and their experiences at National Girlfriends Networking Day events across the country.
Though this was Judith Martinez's first National Girlfriend's Networking Day, she is no stranger to the world of women's empowerment.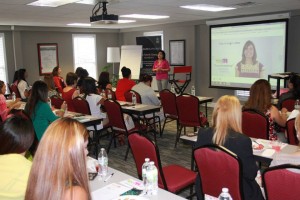 An Emmy-Award winning news anchor and news director, publisher, journalist, and now social entrepreneur, Judith is the cofounder of YoSoyM (which translates to "I am a Woman), "a social venture to empower Latinas in the U.S." She heard about NGN Day from Cristina Espinosa, a member of The New Agenda's board.
"We decided to partner with NGN Day to launch the YoSoyM movement in Georgia," Judith explained, "and it was a great way for us to start YoSoyM and bring a different event setting to our followers."
Held at the Keller Williams training facility in Atlanta, the event had about 50 attendees, which "exceeded our expectations since the event was only promoted through our Facebook page," said Judith. Attending were a number of small business owners, "mompreneurs," and executives.
For Judith, and many in the room, what was said at the panel was inspiring. "One of the panelists said, 'take the time to enjoy your passion,'" Judith said. "That echoed in the room after the panel, and we reflected and how important it is to enjoy what you do and make your passion your life!"
Attendees at the event also participated in the Twitter feed, participating in the social media dialogue that was happening alongside the physical event in Georgia.
Judith found that the event was particularly empowering for the Latina women attending. "For many of the women who came, this was the first time they attended an event like this. Everyone had time to introduce themself and I could see how many of them were nervous to speak English (while their main language is Spanish). One lady approached me and told me that that day, she felt empowered because she was not shy to speak in public and with an accent!" Some of the attendees had incredible entrepreneurial spirit, Judith continued. "We had some ladies who just came to the States a few months ago from Colombia and had already business in place."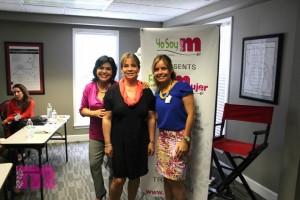 To Judith, the event reflected the spirit of female professionals everywhere. "I believe women are always in helping mood," said Judith. "During our event, one lady offered to train new aspiring real state professionals. Another woman decided to study to become a financial advisor as a result of coming to our event and meeting someone successful in that area." It is because of the impact that NGN Day made on these women that Judith believes more events like it are so important.
"[NGN Day] opens doors of opportunity at a large scale. It makes us feel we are part of something bigger, a national day to celebrate networking and the lives and success of women," Judith emphasized. "It also brings us together and make us realize that it does not matter in which part of the country or to the world do you live, women face the same issues and we have so much in common. We learn from each other and at the local level, we strengthen our relationships and make new ones."
Author Sarah Gruen, a summer intern for The New Agenda, is a rising junior at Tufts University majoring in English and Political Science.