This post is part of a series profiling women and their experiences at National Girlfriends Networking Day events across the country.
When Sarah Kingsley realized she would be in Albuquerque the same day as the National Girlfriend's Networking Day, she considered canceling her trip or coming back home early. A member of The New Agenda's Young Women's Leadership Council, Sarah attended last year's NGN Day in Rochester and was excited to participate in the Rochester event again this year. Rather than change her travel plans, Sarah decided to attend the event in Albuquerque.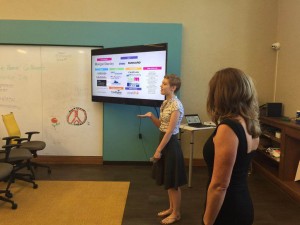 "I figured I could just slip in and chat with a couple women, however two days before hand Amy realized I was attending in Albuquerque and asked me to represent TNA at the meeting," Sarah explained. "This involved just saying a few quick words about who I was and how I was involved and then receiving feedback from attendees."
At the event, Sarah found that there was a diverse array of around 40 women of all stages in their career. "There were established business women, a few representatives from local organizations that help women entrepreneurs, 2 other young and recently graduated women, and everyone else seemed to be mid-career and looking for new opportunities or support." Many of the women had never experienced something like NGN Day before. "The women there found the panel to be very well put together and inspiring—one woman teared up talking about how the discussions of how to keep going in the face of failures were particularly relevant to her life."
Sarah said the event especially emphasized the local network and the power of community in empowering and connecting women. "Quite a few women were there representing resources available to women who wanted to enter the workforce or start small businesses." Furthermore, though the event provided resources for female empowerment in New Mexico, there were also instances of women providing connections to support networks worldwide. "My favorite moment was when one women spoke up that she was going to New Zealand [and was in need of a job], and two women immediately said [they knew people] and gave her connections. In New Zealand!"
For Sarah, the event wasn't about passing out business cards and resumes. "The women who attended really wanted girlfriends…so that a relationship could grow and lead to new things, both in the sense of mentor relationships and relationships between women in the same stage in their careers." It was an empowering experience, Sarah said. "I was left with the feeling that although the business world seems so competitive, being brave enough to come to this event and other events like this creates a kind of sisterhood where we are stronger by asking for help and in turn paying that forward."
Since the event, Sarah has continued to sustain connections with the people she met. "I friended one of the attendees on Facebook and plan to connect on LinkedIn as well—she is a recently graduate who is also interested into going into the technical fields and we really had the chance to talk and connect at the event." 'Personally," Sarah said she "really loved Tina Lifford's discussion on being your most genuine self, that through finding out who you are and what you want, you can operate within your world in a smarter way."
Sarah's story—of making connections even thousands of miles from home and finding networks of like-minded women looking to empower other women—is what The New Agenda is all about. Sarah left the event in Albuquerque "excited and inspired"—we hope this energy was felt at all of our locations, and that excitement and inspiration continues to spread.
Replay NGN Day Photos and Video!
Author Sarah Gruen, a summer intern for The New Agenda, is a rising junior at Tufts University majoring in English and Political Science.