This post is part of a series profiling women and their experiences at National Girlfriends Networking Day events across the country.
Jordana Gilman is an NGN Day veteran, enthusiast, and success story. A first year medical student at SUNY Upstate Medical University, she attended her first NGN Day in her home city of Rochester, NY two years ago. "Although the event in NYC is very appealing, I love that I can network with people in my area while live-streaming the NYC event," said Jordana, who returned to NGN Day in 2014 and is attending once again this year.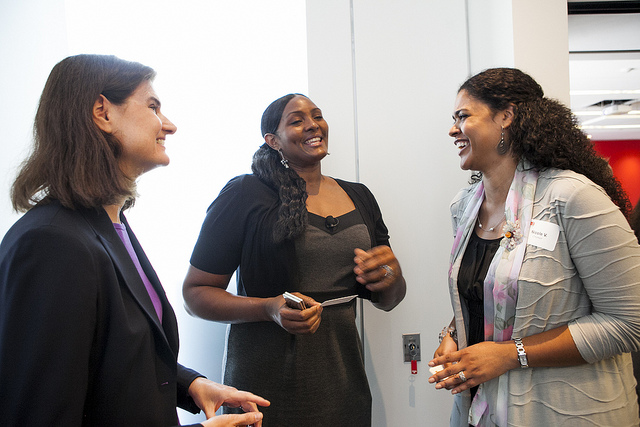 "The past two years in Rochester have taken me to Xerox, where I met amazing women professionals in business, tech, imaging, law, and medicine. We had a lovely lunch while watching the live-stream and got to mingle before and after. It was a productive and inspiring way to spend a lunch break!"
Jordana said that last year's panelist Tammy Jones has had a lasting impact since the 2014 event. "I first heard Tammy speak at a Cornell women's event, and then she rocked the panel at NGN Day 2014. Her motto 'learn, earn, return' is such a powerful statement. It's so simple and summarizes so much of what is important," she explains. "Right now, as a med student, I'm in the 'learn' phase. I look forward to the earning phase a lot, but that's all with the ultimate goal of "return" in mind."
Though she gleaned many words of wisdom from the panelists, Jordana also learned about the power of mentoring through NGN Day. "NGN Day and The New Agenda have made me confident in seeking out mentors and have taught me how to keep the mentee-mentor relationship flourishing," she said.
Jordana knows that she wouldn't have had this confidence in finding mentors without NGN Day. "Without the push from NGN Day, I don't think I would have taken networking so seriously, and I would not have understood that women who are more experienced in their careers actually want to help younger women. This idea is summed up well by last year's panelist Gretchen Carlson: 'Helping other women has always been a huge part of who I am because I got help.'"
This year, Jordana will be in Rochester for her third time running. She is especially excited about watching panelist Hannah Storm, with whom she "participated in the Twitter party this past week." "It was so cool that she responded to my tweet! I feel like I have a connection with a celebrity. I'm hoping to hear more of her story and how she made it in such a male-dominated field," Jordana said.
Perhaps most importantly, Jordana stressed, "everyone who is there WANTS to meet you. If you are younger, they want to help you. If you are older, they want to learn from you. Everyone has a role to play and every role is important!"
Jordana's passion for the event is truly unparalleled; "feeling like I'm entitled to the advice and mentorship of a woman in my career field who has experienced what I am experiencing now has helped me be assertive in building relationships with women I view as role models," she emphasized. A final piece of advice from this near expert NGN Day participant? "Bring business cards if you have them and don't be shy about handing them out!"
Attend NGN Day!
NGN Day takes place on June 4, 2015, from 11:30 am-1:30 pm EDT (8:30-10:30 am PDT). Click below to register for event locations nationwide.
Author Sarah Gruen, a summer intern for The New Agenda, is a rising junior at Tufts University majoring in English and Political Science.