Can you believe it?  We turned 6 in August!  Each year TNA gets bigger and better, and we couldn't have done it without you.As 2014 draws to a close, we're grateful to have touched so many lives.  Our events for college and professional women, our activism on key issues like sexual assault on campus, and the networking connections forged at our events nationwide have impacted thousands – even, tens of thousands – of college, Millennial and professional women in 2014.And we're just getting warmed up!  We have exciting news as we head into 2015.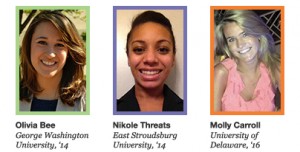 First, we're proud to introduce our fabulous 
Young Women Leadership Council, class of 2015
.  We're thrilled to have assembled such an incredible group of diverse, accomplished, extraordinary young women.  This year we've added faces from new schools like Emory, U Rochester, U Delaware, U Penn and more (read 
bios
).  This is our largest class to date, because we have big plans ahead!
In 2015, we're adding a second national event!  We've been listening to your feedback, and we want you to know that we share your upset and outrage about the crisis of sexual assaults on college campuses.  As so, in TNA style, we've decided to do something about it!
In the fall of 2015, The New Agenda Foundation will launch our 1st Annual Walk/Run to raise awareness, and to work towards ending the epidemic of sexual assault on campus.  We'll keep you posted on details – watch for a main walk/run in the Tri-State area, as well as satellite walk/runs on campuses around the country.  We'll also be launching a pledge on bystander intervention, and be engaging our followers on social media as we build up to the excitement of our big day.
And of course, mark your calendars again for our 4th Annual National Girlfriends Networking Day on June 4, 2015.  The scope of NGN Day has mushroomed!   In 2014, we hosted 23 events nationwide, reached over 10,000 in-person and virtual attendees, and topped Twitter's trending list with more than 100,000 #NGNDay tweets!  (Read about the growing reach of NGN Day here.)
We're already revving up for NGN Day 2015, having confirmed two panelists:  ESPN anchor Hannah Storm, and actress/playwright Tina Lifford.  If you would like to become a sponsor, or host an event, you can reach us at editor@thenewagenda.net for details. (Find information on becoming a sponsor here.)
Finally, thank you again for being on this journey with us.  We couldn't have done it without our wonderful members.  We're grateful for your continuing support and involvement.
Onward and happiest of New Years!
Amy Siskind
President
Join Our Email List
Be the first to know the latest initiatives from The New Agenda to improve the lives of women and girls.