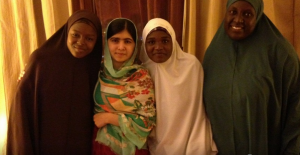 The views expressed herein are those of the author and not necessarily those of The New Agenda.
Monday, July 14th marks Malala Day in honor of the young Pakistani woman, Malala Yousafzai, who has spent much of her soon-to-be 17 years (July 14th is also her birthday) fighting for girls' education. To create awareness for the human rights efforts championed by Yousafzai, a call for participation in the Twitter hashtag "#strongerthan" has been made:
In October 2012, Yousafzai was shot by the Taliban on her way to school, yet she has not allowed extremist cowardice to stop her. In 2013, Yousafzai won the Sakharov Prize, a human rights award, and was a finalist for the Nobel Peace Prize. She also wrote a book in 2013 telling her story of courage.  She shows no signs of slowing down in her efforts to improve access to education for girls.
Yousafzai's fight for female education extends beyond the borders of Pakistan and across continents. In recent months, the abduction of Nigerian school girls by Islamist extremists (Boko Haram) sounds sadly all too familiar.  Yousafzai has made it her aim to fight for these girls too. On Saturday, she met with the parents of some of these students in Nigeria. NBC News reports:
"I can see those girls as my sisters … and I'm going to speak up for them until they are released," said Malala, who will celebrate her 17th birthday on Monday in Nigeria, where she is scheduled to meet with President Goodluck Jonathan. "My birthday wish this year is… bring back our girls now and alive."
Malala's example shows that peaceful courage is stronger than violent cowardice; a noble cause is not bound by geography; and youth is no obstacle for conviction. Happy birthday, Malala!
Source for picture is Fawad Hussain's Twitter account.
Join Our Email List
Be the first to know the latest initiatives from The New Agenda to improve the lives of women and girls.