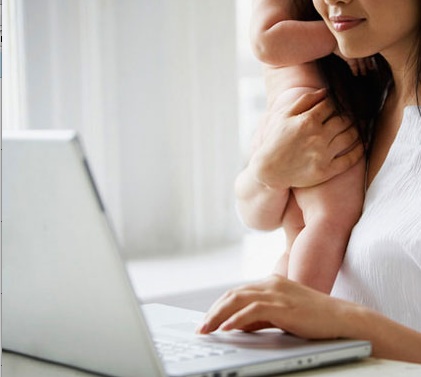 The opinions expressed herein are those of the author, and not necessarily those of The New Agenda. This article is cross listed from www.melissallarena.com
Any mom's return to work can be successful and lasting. To accomplish these goals, a mom has to evaluate, prepare, and adjust her reentry plans based on market changes, role expectations and, of course, her own shift in mind set. Thus, changes relevant to the three categories diagrammed above, those in the: MARKET, ROLE, and MOM are the ones that matter most.
As a young analyst for a financial services giant, I witnessed my VP break down when she publically announced that, despite serving the firm for 10-plus years, she could no longer imagine herself there after the birth of her second child. Her professional legacy was garnering game-changing insights from complex data sets. The industry continued to rely on that key skill, and her job's expectations had not morphed substantially following her time away. Based on these facts alone, it made sense for her to return. However, before agreeing to return, she had not accepted the fact that her priorities and willingness to be away from them had changed.
Below are some things you must do at least three months before returning to the workforce. These tasks do not require childcare, are cost-effective, and are efficient uses of your time, allowing you to investigate the three things that have changed following a work hiatus due to motherhood.
Assess the MARKET – How to ascertain a changing industry for a busy mom.
A woman's online search activity doubles after becoming a mom, according to a 2009 study by BabyCenter and Google. 75% of moms surveyed asserted they are better at search after motherhood. Use this newly refined skill. Set up Google Alerts to scour the web for industry news (Just follow the instructions on http://www.google.com/alerts and be sure to choose "only the best results," not "all results.") Find the business challenges in your industry. Set up a Twitter account. Again, using your online search skills, identify the top thinkers in your field. Pay attention to their tweets and reply with your viewpoint. Use this as a testing ground to see how your thinking needs to be tweaked given current business challenges and needs. Also consider this a great way to forge relationships with top thinkers. See my interview for Social Media Week on how Twitter can help you break past gatekeepers (Read more on http://socialmediaweek.org/blog/tag/melissa-llarena/). A similar BabyCenter study asserts how moms take their mobile devices everywhere with them. On that note, it's key that you have downloaded the necessary mobile apps so that you can consume, participate, and share while on the run.
For more information, email Melissa Llarena at melissa@melissallarena.com
Apps
LinkedIn and Twitter are great places to start. Keep up with updates more easily via their apps. Evernote is the ultimate busy-parent organizer, and is shareable between partners. Doodle Kids was created by a 9-year–old, and it's great to keep the little ones entertained, refining their creative skills while you are web-surfing on LinkedIn. Dragon Diction is perfect for the mom who can't use her hands, since it uses voice-recognition to type emails, reminders or status updates. InstaPaper saves web pages (usually as text only) so that you can read them offline when you're commuting underground with no wi-fi access.
Assess the ROLE – How to uncover and fill skill gaps for a busy mom.
Identify your five target companies. Keep in mind the roles you wish to pursue. Search on LinkedIn for people already in those spots. Review what they did prior to filling those roles, what they are doing now, and their skills and expertise. Compare your own experiences and skills with that of this sample. Write out the five experiences or skills you need to be competitive. Rather than spending money on taking courses to fill these gaps, find pro bono ways to learn on the job. Consider sites such as catchafire.org. On this site, you can scour assignments you wish to take, complete them from home, and acquire or refine business skills. Alternatively, if you want to get out of the house, use that target list of companies. Go to each firm's community relations' page. For example, if Best Buy is one of your target firms, then consider volunteering for one of its partners (Best Buy, like many other firms, list their community partners online, check out this list on http://www.bestbuy- communityrelations.com/our_partners.htm). Before volunteering, ask if you can take your child to the volunteer activities. One mom is volunteering for a nonprofit partner and is able to work with her daughter tucked in her Ergobaby. Now, some great websites to consider using as your teachers include ones with multimedia resources such as:
Howcast.com , which offers instructional videos on anything you can (and cannot imagine).
eHow.com , where you can join an online community to seek advice on any eHow project.
Woopid.com, when you seek technology-specific video trainings on everyday IT tools.
Ted.com, which features thinkers and doers you can learn from and refer to while schmoozing.
 iTunes U, an app which grants you free access to educational content from top universitiesworldwide.
After you learn a new skill, then the best way to refine it is to teach it to others. Consider teaching for Skillshare.com at no cost to you. As they say, the best way to learn something very well is to teach it.
Assess the MOM – How to figure out a mom's personal shift in mind set, or what you will (or can) put up with.
I have no doubt that the VP who wept in front of her team upon her departure would have exceeded her professional goals. We were on track. She had the skill set and relationships she needed. For more information, email Melissa Llarena at melissa@melissallarena.com given that she had invested 10-plus years in the firm. However, she was not the same person, and so the same track no longer made sense. Just because you dedicated X-number of years to one firm before becoming a mom does not mean that you have to return to that firm, that industry, or assume a job in a similar role. Your investment in a prior life should no longer inform your future-facing investment decisions—which is similar to the definition of sunk costs.
It's also important to remove any rose-colored glasses. If you were operating at high speeds before having a child, spent late nights at work while you were pregnant, and/or attended go-away conferences, be conservative and assume you will still have to do the same to produce identical results. Rethink your preferences on anything that required your time or drained your energy before reentering the job market. Write out a few time guzzlers and energy suckers you recall from your prior life and imagine having to endure them on less than five hours of sleep. Is it worth it? It might very well be worth it if you learn that college costs rely on a certain income level. (Side note: check out College Save, an app which adjusts for the rising cost of college as well as the value of your projected savings.) Write out the qualities of your work life that are negotiable and nonnegotiable, then reconfigure your reentry strategy based on who you are today as a mom. (Side note: read further to finesse your motivation for a switch: http://melissallarena.com/career-change/does-your-motivation-for-changing-careers-stink/.)
Conclusion
The biggest challenge for moms (and dads) who have been out of the workforce is figuring out whether they are applying to the right opportunity for their families. Call me for a free 15-minute consultation to hear how I have helped others weigh the costs and benefits of specific roles and helped them more confidently push the gas pedal on their reentry strategy.
For more information, call Melissa Llarena at 347.724.2442, or email her at melissa@melissallarena.com. ———————————————————————————————————————————-
Website: http://melissallarena.com LinkedIn: http://linkedin.com/in/melissallarena
If you found that this taught you something or could be useful to another working mom or a group of working moms, you have my permission to forward it to them. Thanks so much—from one working mom to another.
For more information, email Melissa Llarena at melissa@melissallarena.com