The opinions expressed herein are those of the author, and not necessarily those of The New Agenda.
Earlier this month Mary Kay, in partnership with their Don't Look Away Campaign, released the results from their first, national Don't Look Away survey. They polled parents of 11-18 year old girls, and found a large difference between parents' beliefs about and the realities of their daughters' relationships.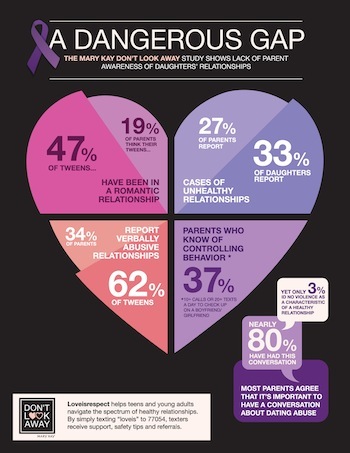 1 in 3 adolescent girls in the United States has experienced physical, emotional, or verbal abuse from a romantic partner.
Jessica Bair, great granddaughter of Mary Kay Ash and alumni of loveisrespect's peer advocacy program said,
"Teen violence is a very real issue with grave repercussions. Open communication about the risk of dating abuse, awareness of resources for help, and the support of friends and family are critical for victims. Often times, people will look the other way and not get involved but they shouldn't. We hope the findings of this poll encourage communities to not only talk about this serious issue, but also to tell them 'Don't Look Away' if they witness abuse or an unhealthy relationship."
One of the most important tools parents have is communication.
A majority of parents say they have discussed these specific topics regarding dating abuse:
83 percent have discussed their daughters' right to say no and how to do so.
73 percent have discussed that dating abuse can be physical, emotional and/or sexual.
66 percent have discussed where to get help should she or a friend ever encounter dating abuse.
60 percent have discussed the warning signs of dating abuse.
While it is good to see a majority of parents talking about dating abuse, an important point highlighted in the survey is when parents are having these conversations:
"Some parents may be waiting to have these discussions until they know their daughter is involved romantically. Significantly more parents who report knowing their daughter has had a relationship have discussed dating abuse than those who believe their daughter has not been romantically involved (91 percent to 72 percent)."
With a 28% disparity in the percentage of parents who believe their teens have been involved in a romantic relationship (19 percent) and the actual percentage of teens who have taken this step (47 percent), it is clear that some parents are starting this discussion too late.Also concerning in the results was the fact that only 3 percent of parents specifically identified "no violence or abuse" as a characteristic of a healthy relationship. It is important that parents talk to their teens, not only about dating violence and abuse, but also about the differences between healthy and unhealthy relationships.
What are some signs of an unhealthy relationship?
Verbal Abuse – yelling, name calling, ridiculing, threatening violence.
Emotional Abuse – manipulation, constant criticism, humiliation.
Physical Abuse – slapping, pinching, hitting, kicking, shoving.
Forced or Coerced Sexual Activity
Lack of Privacy – a partner demands passwords to social media accounts, email, or phone, and checks them without permission.
Controlling Behavior
Possessiveness and Jealousy
Calling or texting excessively to check up on a partner.
Limiting a partner's time with family and friends, or activities outside of the relationship.
What are some signs of a healthy relationship?
Good Communication – partners share feelings and opinions openly and honestly, and conflicts are solved without violence.
Mutual Respect – partners do not belittle or criticize each other; each partners' individuality and differences are embraced, and their feelings are not minimized.
Support – partners encourage each other, and listen without judgement.
Privacy – partners are not together at all times, and do not have to share everything.
No Violence or Abuse – physical, verbal, and emotional abuse have no place in a healthy relationship.
If you are a teen (or parent) who has questions about dating abuse or needs help, the National Teen Dating Abuse Helpline is a 24-hour resource that can be accessed by phone 
(1-866-331-9474
 & 
1-866-331-8453
 TTY), online at 
loveisrespect.org
, or by texting "loveis" to 77054.