The opinions expressed herein are those of the author, and not necessarily those of The New Agenda.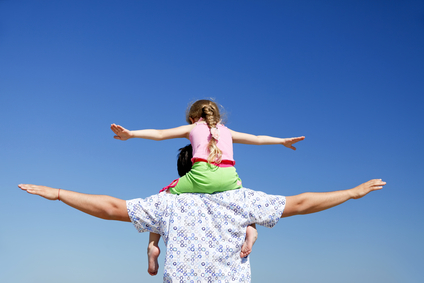 Kickstarter, as many people know, has been a huge draw for people seeking crowdsourced funding for creative projects to bring forth to the world. From young punk rock bands looking for cash to produce their albums, to established authors like Seth Godin seeking funding for a new book on the "connection economy," Kickstarter has grown into a must-have for anyone seeking funding from non-traditional sources.
Innovation For Girls' Toys
So that's why, as a dad, I was struck by the straightforward, heartfelt pitch for a new Kickstarter project, GoldieBlox, by a gal named Debbie Sterling, who has developed this game toy aimed at girls but it isn't too girly. In fact, it's terrific. You can read more about it, but in a nutshell, GoldieBlox is a game toy aimed at helping young girls develop their cognitive and scientific brain to bring about a new generation of female engineers.
Sterling went to Stanford's engineering school and was struck by the dominance of men in all her classes. She says in her Kickstarter video that 89 percent of U.S. engineers are male. So she reasons that to raise the percentage of female engineers, we need to start training our daughters to think like engineers and hopefully pursue studies as they grow older.
Building A Fun Educational Toy Brand
That's where the game comes in. The New Agenda wrote, "GoldieBlox is a book and construction toy all-in-one. It stars Goldie, an adventurous girl inventor who builds simple machines. Children can build the same machines that Goldie builds, using their tool kit."
The toy looks to go into production soon (as a result of the money raised through Kickstarter) and will become available on toy shelves by next fall. Maybe by December 2013, us dads might even be sending out Christmas photo cards of our daughters playing the game, along with parents looking on in wonder. Love that!
By next year, there may be more than just the game, too. Sterling recently told Forbes Magazine, "It's not a one-off product. It's a brand."
She aims to build GoldieBlox into a larger concept, taking cues from textbook case studies of companies like American Girl (with dolls, magazines, plays and accessories) to Angry Birds (online games, offline dolls and other products).
Something New For Toy Trends
And here's where I think that she's really on the cusp of a new trend for training our young girls. No longer should girls be bound by gender differences. Who's to say that a young woman can't start a huge new Internet company, or develop a new vaccine to cure an ailment, or design a new type of racing car? All of these types of goals may have been inadvertently blocked because of long-standing gender discrimination cycles.
I think dads can relate, as I do, to career and life goals for our daughters. We want our daughter to excel in everything they do, and guess what, it doesn't just have to be something "pink." Maybe we'll see a new non-Disney female adventure hero created? Or what about a new TV show about smart young girl geeks who outwit their male counterparts at every turn?
In any case, I expect we'll soon see other young entrepreneurs rethinking the way we teach our children, by offering new ideas for games and culture accessories that aren't stuck in 1970s gender stereotypes.
Join Our Email List
Be the first to know the latest initiatives from The New Agenda to improve the lives of women and girls.