The New Agenda welcomes our readers to share their stories and observations on the candidate's track record with women (submit blog pieces to editor@thenewagenda.net). The opinions expressed herein are those of the author, and not necessarily those of The New Agenda.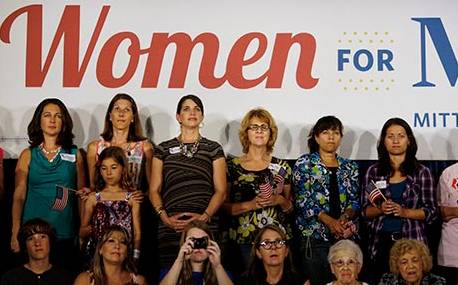 "I had no idea," is what Cindy Gillespie hears from women when they find out about Mitt Romney's record on hiring women in senior positions. Gillespie is a former Mitt Romney senior staff and advisor for the 2002 Winter Olympics in Salt Lake City and in his Massachusetts Governor's office. With a dozen of her former colleagues from Massachusetts and the Winter Olympics, Ms. Gillespie is traveling around the country meeting women and talking to them about the Mitt Romney they knew as a boss and friend.
While my interview with Cindy Gillespie occurred before Governor Romney's "binders full of women" comment during this week's debate, Kerry Healey, former Lt. Governor of Massachusetts, in an interview this week, addressed it.  Her job was to recruit for the Governor's administration and she indicated she "spent many hours" looking through resumes to recommend strong candidates for key positions in his administration.  His "binders" helped identify and install a record number of women in top positions, including 50% of his cabinet.  The point – whether it was binders, or files on a computer (today he would look at them on an iPad, most likely) – is that women were not only considered but sought after and hired.  The binders were provided by Massachusetts Government Appointments Project (MassGap), a nonpartisan coalition.
In my extended coffee with Cindy Gillespie, I got to hear firsthand about her work and impression of Mitt Romney.  Like many others, my "I had no idea" moment came after reading Cindy's blog, and she graciously agreed to meet me and talk about "the real Mitt Romney."  What I read in Cindy's blog post, and subsequently in the posts written by her colleagues, told a different story about the man that has been accused of waging a "War on Women."  It is quite a tale!
Over dinner a few months ago, Cindy and her colleagues decided to write start a blog and take to the road to talk to other women after a younger woman overheard them telling stories about their old boss and said, "listening to all of you is so exciting to me.  I didn't realize all he has done for women."  Cindy puts it this way:  "We decided it was time to go out and tell 'em ."  Her determination and enthusiasm has not wavered; it was great fun to see her so animated.
"It's so interesting how a fake image of him materialized," she said.  "I had never really thought about what you have to go out and tell people," she admitted, still surprised that others had "put fear in women that Romney might be the kind of person to surround himself only with men."
Starting with the Salt Lake City Olympics, Cindy and her colleagues saw a leader who pushed staff to take on new challenges and hired women in positions formerly held by men.  Rather than the traditional senior positions that women tend to end up in, like human resources and public relations, Mitt Romney sought "the best person for each job."  He put four women in very senior positions, including two that had been held by men in past Olympics:  Telecommunications and Sport.  Additionally, of his five direct reports, two were women — one of them Gillespie herself.
"One of the things that was wonderful about working with him, male or female, is that he was always pushing you to go to the next level in your own capabilities and to take on new challenges.  It is an interesting way he does it.  He believes you can do it, and therefore you go figure out how to do it."
Professional growth for Gillespie, was "amazing."  She talks about her expanded position, from Government Relations to "Government Relations AND Torch" at the Winter Olympics.  Torch, that ancient, traditional illuminated stick, involves some 15,000 runners, big logistics, every state, international participants, major supplies for uniforms and extra torches, and raising some $25 million.  When Romney approached Gillespie with the request to take on the extra responsibility, she says she responded with trepidation.  "You understand I've never done anything like that before.  So why did you give this to me?"  Romney's response was "typical," she said.  "Because I thought you might be getting bored and you needed a challenge."  Despite its proximity to 9/11, the "Torch" activities leading up to the Winter Olympics were successful.  Romney even insisted she involve her Dad, a Vietnam veteran, as a torch bearer in the Washington, D.C. ceremony.
Romney brings women into senior management
In Massachusetts, half of Governor Romney's cabinet was made up of women.  He was recognized "every year he was Governor" for having more women in his cabinet and senior positions than any other governor.  He selected and campaigned for Kerry Healey, his Lt. Governor.  His Chief of Staff, Beth Meyers, was a key advisor and counsel in the Governor's office.  She later managed his 2008 campaign and serves as a senior strategist now.
Engaging women as leaders on his team is something Romney does, "quite naturally," Gillespie added.  "Usually when you go into corporations and you see when they are trying to make sure they have gender diversity that there are certain positions that you will find women more likely to serve in."  Not so in Mitt Romney's management teams.  "That is one of the more interesting aspects of his leadership recruitment.  It's not just that he had women in senior positions but it is the positions he had women in because they were not the traditional ones."  Instead, he sought to bring the most qualified people, who were frequently women, to key positions.
Gillespie also stressed that Mitt Romney knows how to find the best people for the jobs.  "By definition, many of them are women."  His work style, his pro-family beliefs, and his personal commitment and drive make for an attractive working environment.  Family plays an important part in Romney's life, and he respects not only the challenges his employees take on at work, but what they are doing at home.  Because that is how he lives his life, it is very natural to him to look for that kind of person in his employees.  "When you do that, you end up with a lot of women in your top positions," she said.
Since the binder comment has gone viral, The Boston Globe has published an article verifying that Massachusetts ranked first nationally in percentage of women in top executive branch leadership positions (study by the Center for Women in Government & Civil Society at the University at Albany) after Romney took office.  The Globe cites another study showing that midway through his term, 42 percent of his new appointments were women (UMass Center for Women in Politics and Public Policy).  No study or methodology is cited, but the Globe article claims that the percentage fell toward the end of his term to 27.6 percent.
I can only conclude, from this opportunity to hear about the "real" Mitt, that more women will be interested in knowing his record of hiring and supporting career advancements of women on his staff.  Other governors – and their states – would be well served by bringing more women into top positions in their cabinets and senior staff.  It was extraordinarily interesting and eye-opening to hear about the experiences of Cindy Gillespie and her colleagues who worked with Mitt Romney.
A topic for another day is encouraging more women to seek elected office at the state level.  Women have been elected to statewide executive offices in 49 of the 50 states.  In Maine, the only statewide elected executive office is Governor and no woman has ever served in that position. Only six of our current governors are women. There are 320 statewide elected executive positions across the country; of those 75 are women, just 23.4 %.  As more governors increase their inclusion of women in their top staff spots, maybe that will encourage more to pursue elected office, as well.
Join Our Email List
Be the first to know the latest initiatives from The New Agenda to improve the lives of women and girls.