What would it mean if a rancher, a former CEO of the World Wrestling Entertainment (WWE), a director of a synthetic fuels plant, and a Japanese immigrant turned Georgetown educated lawyer were all in the same room together? In January it may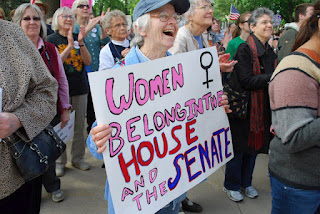 simply mean that the Senate is session.  Those four individuals of diverse backgrounds are just a portion of the 18 women  running for 33 Senate seats in this year's election. Deb Fischer, the Republican candidate for Senate in Nebraska, is a rancher running to fill the seat of retiring Senator Ben Nelson. Linda McMahon, the Republican candidate for Senate in Connecticut, is running to fill the seat of retiring Senator Joe Lieberman and once was the CEO of the WWE (formerly WWF). Heidi Heitkamp, the Democratic candidate for Senate in North Dakota, is the director of the Dakota Gasification synfuels plant. Mazie Hirono, Democratic candidate for Senate in Hawaii, emigrated to America from Japan with her mother and brother and later went on to put herself through college at the University of Hawaii at Manoa and law school at Georgetown University.
The 18 women running for Senate are a bipartisan group–twelve Democrats and six Republicans. In three races–Hawaii, California, and New York– women are running from both parties.In Hawaii, not only is Mazie Hirono running, but former Republican governor Linda Lingle is vying for the seat as well. In California, Elizabeth Emken, former vice president of government relations for Autism Speaks (an autism advocacy group), is challenging incumbent Dianne Feinstein, who was elected first female senator of California in a special election in 1992. In New York, Wendy Long, who worked in the senate for two GOP Senators during the Reagan years before getting her law degree and practicing, is challenging incumbent Kirsten Gillibrand ,who is running for her first full six year term after first being appointed to the seat, vacated by Hillary Clinton, in 2009 before winning a special election in 2010.
In addition to Senators Feinstein and Gillibrand, four other women are running for re-election to the Senate–Senators Amy Klobuchar of Minnesota, Claire McCaskill of Missouri, Debbie Stabnow of Michigan, and Maria Cantwell of Washington. According to Real Clear Politics's current analysis, Feinstein, Gillibrand, Klobuchar, and Cantwell look poised to win their races handily while Senators McCaskill's and Stabnow's races are designated "leans Democratic" indicating that the race is more favorable to them.
The aforementioned Mazie Hirono is currently a Congresswoman from Hawaii, and two other current Congresswomen are running for seats in the Senate. Tammy Baldwin, Democrat from Wisconsin, is running for the seat held by the retiring Herb Kohl. She was elected the first female Congresswoman from Wisconsin in 1998 and would be the first female Senator from Wisconsin if she is elected. Nevada Congresswoman Shelley Berkley is running for Senate in Nevada. She was the first woman to serve her district in Congress and, if elected, would be the first woman to serve in the Senate from Nevada.
In a very high profile race, Elizabeth Warren is challenging Scott Brown for Massachusetts Senate. Warren has twice been named to Time's 100 Most Influential People list and has spent two decades as a law professor at Harvard. In Maine, Democrat Cynthia Dill is running for the seat held by retiring Republican Olympia Snowe. Dill is a civil rights lawyer who has served in Maine's state legislature for six years. Heather Wilson is the Republican Senate nominee in New Mexico. Wilson, a former Congresswoman, was part of only the third Air Force class to include women and was the only female veteran in Congress during her six terms in the House.
2012 is proving to be a banner year for women running for the Senate as this year's race shows a marked increase in general election Senatorial candidates over the record high of 14 candidates in 2010.There were also 18 other women  from  13 states who ran in the Senatorial primaries but did not win their party's nomination. While there still is a long way to go for the gender gap in American politics to shrink and eventually disappear, this group of diverse and experienced women provide a lot of optimism for female voices in the US Senate.
Join Our Email List
Be the first to know the latest initiatives from The New Agenda to improve the lives of women and girls.