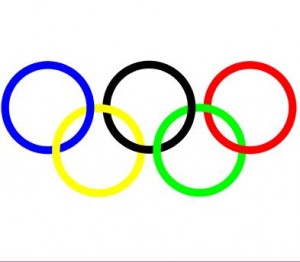 It's that time again! The Summer Olympics in London will begin later this month. For the first time in history, more women will represent the United States in the Olympic Games than men. The US team was announced on July 10th, and the 530 member team includes 269 women and 261 men:
"It speaks to Title IX," Teresa Edwards, the U.S. Olympic team chef de mission and five-time medalist in basketball, told USA TODAY Sports. "It's evident where we've come from especially with women in sports. I'm very proud of that — not so proud that I want to make the men jealous because a lot of men play a role in where we are now — but I'm proud to know that we've come this far."

USOC CEO Scott Blackmun said the greater number of female athletes is "a true testament to the impact of Title IX, which in its 40-year history has increased sport opportunities for millions of females across the United States."
It is fitting that the same year that Title IX celebrates its fortieth anniversary, many of the women who received the opportunity to participate in athletics because of the legislation will now get to represent their country, and female representation will more than equal that of male athletes.
Four years ago, there were 24 more men than women that competed for America in the Summer Games.  There are some notable differences and changes that have occurred that have contributed to this flip. On the men's side, while they participated in 2008, the men's soccer team did not qualify the Olympics this year which contributed to the comparative difference in male and female athletes. However, on the women's side, this year marks the first time that women will compete in boxing as a medal sport.  Olympic women's boxing has drawn attention already, even before the first punch has been thrown.  Late last Fall into the Winter, it was heavily debated whether or not the female boxers would be required to wear skirts during the Olympics. It was decided in mid February that women would be allowed to wear skirts or shorts when they competed, although individual countries may have their own requirements.  Additionally, Queen Underwood, considered America's best hope for a gold in women's boxing, has been highlighted for her courage in aiming to turn her hurtful past of being raped by her father as a child into Olympic victories.
This year's games also marks the first time that every country represented at the games will have women competing. On July 12th, Saudi Arabia agreed to allow two women to compete. One woman, Wodjan Ali Seraj Abdulrahim Shahrkhani, will compete in judo and Sarah Attar will compete in the 800m run. However, these athletes will be required to compete in Sharia compliant clothing and be accompanied by a male guardian at all times. The nations of Qatar and Brunei Darussalem will also be sending women to the Games for the first time.  Qatar's Bahiya Al-Hamad, who is competing in shooting, will be carrying the flag for her nation at the Opening Ceremonies.
Great victories in representation have already been won in this year's games, and hundreds of female athletes will bring home medals to their respective countries after the fortnight of competition. There are some women though who may not have that opportunity to do so. This will the first Olympics since 1992 when women's softball will not be part of the games. Despite growing interest in Asia and long time interest in the United States and Australia, the Olympic Committee voted in 2005 that women's softball will not be a part of the 2012 or 2016 Olympic Games.  Men's baseball will not be a part of the Olympics as well, and some, including former star softball player Jennie Finch, have suggested that Major League Baseball follow the lead of professional men's and women's basketball and men's hockey—all of whom take a short break during seasons in which there are Olympics-to enable both men's baseball and women's softball to be part of the Games again.  The International Olympic Committee guidelines aim to have men's and women's events for every sport, and the similarities between softball and baseball makes softball's Olympic fate dependent upon men's baseball.  Thankfully, there is potential for both men's baseball and women's softball to re-emerge in the 2020 Olympics.
Beyond having one's sport present at the Games, athletes must have the tools and funding  they need to get to there. An unfortunate issue that has plagued women's athletics is the issue of marketability. While male athletes are often judged primarily on their athletic ability, a female athlete's marketability (i.e. looks and overall appeal) tends to play a greater role in whether or not a female athlete or sport receives visibility or sponsorship. Weightlifter Sarah Robles is the highest ranked American weightlifter, male or female, but is struggling to make ends meet and fund her time intensive training without the lucrative sponsorship that higher profile, more "marketable" athletes often receive.  Robles stated earlier this month, " [y]ou can get that sponsorship if you're a super-built guy or a girl who looks good in a bikini, but not if you're a girl who is built like a guy". Robles comments summarize the unfortunate nature of gender differences in athletics. For men, ability triumphs often regardless of physical appeal.  For women, marketability triumphs, and athletic talent proves to take the silver medal of female athletic promotion.
Marketability and sustainability in female sports extends beyond the Olympics though.  Women's soccer, whose American popularity exploded last summer following a second place finish in the World Cup, saw its professional league collapse this year.  Star soccer player Abby Wambach noted in a recent interview with Robin Roberts that she doesn't "want people investing in women's sports because it's the right thing to do. I want people investing in women's sports because it's the smart thing to do".  This is where marketability and athletic ability must merge to provide the right environment for people to invest in women's sports.  As more female athletes are recognized for their athletic ability in addition to their marketability, investing in women's sports will become more and more "smart".
There is still room form improvement to ensure all female athletes receive both the necessary funding to train and the appropriate platforms for their sports to be recognized. However, this year's Games have delivered two victories before the torch has even been lit. In America, where women's sports has already accomplished so much, there is equal representation in athletes.  In countries like Saudi Arabia, Qatar, and Brunei Darrasalem,  where women are subjugated, female athletes are finally given a chance to display their abilities on a worldwide stage.  Let the Games begin!
Join Our Email List
Be the first to know the latest initiatives from The New Agenda to improve the lives of women and girls.