The opinions expressed herein are those of the author, and not necessarily those of The New Agenda.
Update:  On May 14th, Scott Thompson stepped down as Yahoo's CEO.  Amid the controversy around his credentials, media reports are stating that one reason for his resignation is his recently diagnosed thyroid cancer.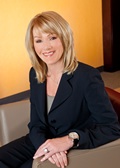 Earlier this week, I woke up to find that a female corporate board member was resigning over Yahoo CEO Scott Thomson's false information on his CV.   When he was hired, Mr. Thomson's bio supposedly stated that he graduated with a computer science degree, which in reality turns out to be an accounting degree.    I am not privy to internal Yahoo Board discussions, but I presume there is debate as to whether or not Mr. Thomson should stay or go.  Other blog posts at the Washington Post and Forbes are already addressing this issue.
I am asking a different question:  why is the first collateral damage in this story a woman?  Why is Yahoo director Patti Hart the first person to step down (technically she isn't standing for re-election)?  Granted the Board at the company she runs wants her out of the limelight, yet why is the Yahoo fracas falling on her shoulders?   Yes, hiring a CEO is one of, if not "the", Board's most important duties.  However, presuming she and her fellow Board members ran a robust process, why should this error which Mr. Thomson generated and then didn't refute, bring her down?   I am sure corporate boards will be reviewing their CEO hiring processes as a result of this.
There are already too few women on corporate boards – why should one of them take the fall for the CEO's admitted falsification?   Are women just "better team players"?  More willing to take one for the team in this case?   Isn't the wrong head rolling at Yahoo?
Join Our Email List
Be the first to know the latest initiatives from The New Agenda to improve the lives of women and girls.