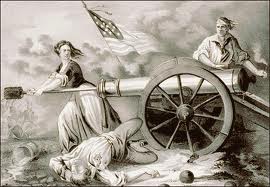 Much has been made of the "war on women" in the last couple months following Congressional talks about federal insurance mandates for birth control. Comments from national and local talk radio hosts, political pundits, and so called comedians  disparaging women across the political spectrum have come under scrutiny providing further ammunition in this "war". Such comments have led politicians on both sides of the aisle to seek donations off of these comments.  Congresswoman Pelosi and Democratic strategists James Carville and Donna Brazille have sent out fundraising emails referencing this "war on women". Republican presidential candidate Mitt Romney has also sent out an email to raise funds off of Hilary Rosen's comments about his wife's choice to stay at home. In many ways, this "war on women" has simply become political theater by people on both sides of the aisle. It makes me think, if this is a war on women, why do I feel like I'm the grenade? In the battle of rhetorical contrast, women have become the weapon used to score political points.
In the political battle for the "women's vote", politicians attempt to one up each other on their respective political rhetoric and record when, in reality, no one is perfect. President Obama held a women's economic summit at the White House earlier this month, but not before hosting the Muslim Brotherhood—a religious sect known for its anti-woman doctrine—just days before the women's economic summit. It was also reported last week that the median salary of female White House staff was 18% lower than their male counterparts;this after President Obama signed the Lilly Ledbetter Fair Pay Act more than three years ago. Meanwhile, likely Republican nominee Mitt Romney engaged in questionable political maneuvering when he has faced female opponents in previous elections and has come under fire for hosting male candidate only fundraiser in Arizona in 2010 when two Republican women were running for Congress in the state. Romney has also employed staffers who have referred to Sarah Palin as "not a serious human being" and have relished the opportunity to run against Michele Bachmann or Sarah Palin because it would allow them to create a contrast against a "crazy woman".  Neither presidential hopeful can claim to be the "women's candidate" based solely upon their rhetoric and record because they both have imperfections. Women have the opportunity to compare and contrast the rhetoric and records of both candidates and choose for themselves which one they think deserves their vote.
The "women's vote" is indeed a very important component of any election. A Politico op-ed penned by the CEO of Concerned Women of America, Penny Nance, noted:
The hand that rocks the cradle can swing an election. Women have carried every presidential election since 1964. They are late-in-the-game deciders who avoid single-issue politics in favor of complex considerations. Just two years after 56 percent of women voted for Barack Obama, they supported Republicans in their 2010 victory over Democrats. They swung 6 points away from Obama in the midterm elections, telling pollsters that fiscal issues and the size, scope, and spending by government motivated them to turn the tables.
The voice of women has made a huge impact at the ballot box, but the "women's vote" is not a collective declaration. Rather, the "women's vote" is a collection of individual women's decisions based upon their priorities. A CNN poll performed late last month indicated that 54% of women saw the economy as the most important issue with 16% and 14% of women stating that the federal budget deficit and healthcare were the most important issues respectively. The remaining 16% of women thought that either the situation in Afghanistan, illegal immigration, terrorism, or gay and lesbian policies were the most important issues.  Suffice it to say, each women has a unique set of priorities when it comes to how they vote, and women's opinions on how these priorities should be as a means of policy fall all along the political spectrum.
Hyping the "war on women" may score temporary political points or a fundraising bump, but it also disrespects the intelligence of women. Women aren't looking for someone who fought with us by using us as a political weapon to defeat their electoral opponent. We are looking for the candidate who fought with us by fighting for the issues that we think are imperative. The female voter is not a grenade in a rhetorical political war; the female voter is the "Molly Pitcher" who is engaged in the battle herself and wants to align with the candidate fighting that same battle.
Join Our Email List
Be the first to know the latest initiatives from The New Agenda to improve the lives of women and girls.