The opinions expressed herein are those of the author, and not necessarily those of The New Agenda.

April has been designated Sexual Assault Awareness Month (SAAM) and Child Sexual Abuse (CSA) Prevention Month. The National Sexual Violence Resource Center's (NSVRC) theme for 2012 is "It's time… to talk about it!" The NSVRC's campaign centers on having dialogues about healthy sexuality and learning to respect each other. "It's time to… to talk about it" also has other implications.
Whether fear or shame keeps victims from coming forward, professionals estimate the statistics are much higher than what is reported. 73% of child sexual abuse victims wait at least a year to disclose abuse, 45% wait at least five years, many never tell at all 1, and 54% of rapes go unreported to police.2 Mumsnet started a "We Believe You" campaign, creating the Twitter handle "@IDidNotReport1 to allow survivors of sexual assault and childhood sexual abuse to speak out anonymously. Thousands of survivors have tweeted with the hashtag "#ididnotreport". They are absolutely heartbreaking.

Here's the thing, though. Turn on the TV and you will find people getting away with jokes about sexual assault and rape because it's "comedy", a First Amendment right, or because the rest of us should lighten up.  A recent article on The New Agenda calls out a blogger  who wrote why the character Don Draper on Mad Men is better than a character on another show, citing a scene where Don Draper sexually assaults a woman as an example. The writer calls Don Draper "a lady-killer."
On an episode of Modern Family, a thirteen-year-old girl asks her dad what Jaegermeister is, and he replies,
Um, well, you know how in a fairy tale there's always a potion that makes the princess fall asleep and then the guys start kissing her? Well, this is like that except you don't wake up in a castle. You wake up in a frat house with a bad reputation.
A joke about child sexual abuse showed up on an episode of Suburgatory. A man locked himself in the bathroom of a Las Vegas hotel room while his buddies and two prostitutes waited outside. One of the men, played by Jay Mohr, tells his distraught buddy that he can change for the better, become a new person. He turns to the prostitutes and says, "But not you two, you two stay exactly the way you are." As they turn around to leave, the first prostitute says, "I'm gonna go call my mother." The second announces, "I'm gonna go confront my stepfather." Cue the awkward glances between the men in the room. Sexually abused girls are 28 times more likely to be arrested for prostitution, and the younger a girl becomes involved in prostitution, the greater the likelihood she was sexually abused 3.
Facebook still has "rape joke" pages up. Their view is that it doesn't violate their terms of service if they are marked with the tag "humor."  The BBC quoted someone from the Facebook network saying
"Groups or pages that express an opinion on a state, institution, or set of beliefs – even if that opinion is outrageous or offensive to some – do not by themselves violate our policies.

"These online discussions are a reflection of those happening offline, where conversations happen freely."
What finally made Facebook nervous? The almighty dollar: businesses were not happy their ads were showing up on rape joke pages.
These things may not be a big deal for people who have not experienced anything so devastating as childhood sexual abuse or sexual assault or rape. But for someone who has, they can be very triggering, and they can create an even greater need to keep silent and not reach out for help.
Something else to think about moving forward through April and beyond is who being targeted in awareness/prevention education and what we're telling victims. I don't know any woman of any age who can remember a time she didn't hear all the do's and don'ts of personal safety. "Don't wear skimpy clothing." "Don't walk in certain parts of town alone or at night." "Be aware of your surroundings at all times."  These are great tips for personal safety. However, men need to be taught that a woman has the right to take a bus by herself late at night to get home from a late work shift without fear of being sexually assaulted. Who is teaching potential predators that a woman wearing a short skirt is not an invitation? There are organizations cropping up online to do just that, and they have brilliant campaigns. Men Can Stop Rape, for example has some great posters and education materials to teach young men how to better respect women and their bodies.
The other thing about these lists is that they are often used as ways to blame victims of sexual assault or rape. "Why would she be in that alley in the first place?" "Yeah, but did you see what she was wearing? She was kinda asking for it." It can still happen to the most diligent of women. When it comes to sexual assault, rape, and child sexual abuse, the blame lies squarely with the perpetrator. Period.

If you have been sexually assaulted or were sexually abused as a child, please know there are numerous resources for you, and it is never too late to get help. The Rape, Abuse, Incest National Network (RAINN) has an online hotline, as well as the National Sexual Assault Hotline,  1.866.656.HOPE. Calls are anonymous and confidential. Your local YWCA also has a hotline. Some chapters may have a trained advocate ready to be a comforting presence during a police interview or should a rape kit be necessary. Go to the YWCA's website, scroll to the bottom, and find your state to locate your local chapter. If you are in immediate danger, call 911.
There are also organizations with resources for awareness and prevention education that you can take out into your community. Darkness to Light, Stop It Now!, No More, and  NSVRC, are just a few.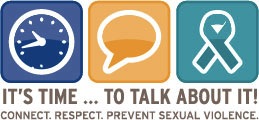 It is time to talk about this country's dirty little secret. Here are some statistics to kick off Sexual Assault Awareness Month and Childhood Sexual Abuse Prevention Month:
Every 2 minutes someone is sexually assaulted in the United States. 2
More than 90% of child sex abuse cases are committed by a family member or family friend. 1 and 2
97% of rapists will go free. 2
Girls who are sexually abused are twice as likely to be sexually assaulted or raped as adults. 4
Roughly 80% of female victims were raped before the age of 25. 4
20% of sexual assault victims are younger than 8 years old. 1
There are more than 42 million survivors of childhood sexual abuse in this country. 1
Almost 1 in 5 women has been raped at some point in her life. 4
73% of sexual assaults were perpetrated by a non-stranger. 2
More than half of all reported sexual assaults/rapes reported occurred one mile of victims' homes or within their homes. 2
References:
1 Darkness to Light Statistics
3 U.S. Department of Health & Human Services
4 CDC
Join Our Email List
Be the first to know the latest initiatives from The New Agenda to improve the lives of women and girls.