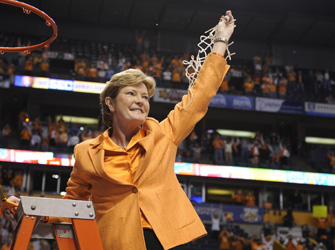 March marks both Women's History Month and "March Madness"—the NCAA men's and women's national championship tournament. Earlier this week, the Tennessee Lady Vols made it to the Sweet Sixteen aiming for their ninth championship  in school history. Since the 1974-1975 season, Pat Summitt has served as the head coach of the team, winning more than a thousand games and eight national championships along the way. Summitt (then Patricia Head) graduated from the University of Tennessee- Martin in 1974 where she played basketball, even representing America in the World University Games in 1973. Her coaching career began in an unexpected manner when she started as a graduate assistant at the University of Tennessee-Knoxville during the 1974-1975 season:
The late Helen B. Watson, the former chairperson of UT's Physical Education Department, can be credited for bringing a young Pat Head to Knoxville. Watson asked Head to coach the Tennessee women's team in a letter dated April 30, 1974, when Head was a 21-year old senior at UT-Martin. In her letter, Watson wrote, "we have an excellent potential team, and I believe that they would be happy to have you as their coach."

At the time, Head was being courted as the assistant coach who would also serve as a graduate teaching assistant in the Physical Education Department at UT while she pursued her master's degree. An enthusiastic Head accepted the position. Imagine her shock two weeks later when Watson called back and informed Head that the women's basketball coach, Margaret Hutson, had decided to take a sabbatical and Tennessee was offering her the job as head coach. Head, who had never run a practice or made out a practice plan or schedule, said she really contemplated her decision because as she put it, "I was absolutely overwhelmed and scared to death."

Patricia Sue Head arrived in Knoxville as the new head coach and was practically the same age as the seniors on her team. A little shy at the time, she never corrected Dr. Helen B. Watson or Dr. Nancy Lay, her mentors in the UT Physical Education Department, when they shortened Patricia to Pat, assuming that's the name she went by. Head never mentioned to them that she had gone by Tricia or Trish her whole life.

Summitt played her college career and started her coaching career in the midst of the passage of Title IX, the nascence of equal opportunity in education and athletics for women. This time of budding opportunity was not without its growing pains, and she had to do a lot of multi-tasking, as women are accustomed to doing, early on her coaching career:
In those early days under Title 9 — the landmark federal law that led schools and colleges to dramatically increase access to sports and other programs for women — women's basketball games weren't televised and attendance was poor. The Lady Vols were so strapped for cash that Summitt washed her players' uniforms at home and drove the team to games.

"I remember nights I was driving the van and I'm about to go to sleep, and I'd just roll down the window and stick my head out," Summitt said, laughing.
In the decades that have followed, Summitt has had a stellar coaching career.  The Lady Vols have made it to the NCAA tournament twenty-nine times and have won sixteen conference championships. Along the way, Summitt has won more than a thousand games as a coach, more than any other coach in any NCAA sport—male or female! In 1984, she coached the Olympics women's basketball team to gold in Los Angeles.  She was an inaugural inductee to the Women's Basketball Hall of Fame in 1999 and was also inducted into the Basketball Hall of Fame in 2000. In August of last year, Summitt announced that she had been diagnosed with early onset Alzheimer's type dementia. She was determined to continue coach, which she has. Holly Warlick, one of Summitt's former star players and assistant coach has served as Associate Head Coach this season. Summitt, who is known for her mental toughness, responded to this diagnosis by noting, "[t]here's not going to be any pity party, and I'll make sure of that". In 2011, she was name Sportswoman of the Year by Sports Illustrated:
Time will tell how the Lady Vols will finish this 2011-2012 season or how many more years Pat Summitt will coach, but she has already left an indelible mark on the women's basketball and paved the way for many women across the professional spectrum.
Join Our Email List
Be the first to know the latest initiatives from The New Agenda to improve the lives of women and girls.