The opinions expressed herein are those of the author, and not necessarily those of The New Agenda.
Today marks the first day of Women's History Month. The National Women's History Month Project notes that this year's theme is Women's Education and Women's Empowerment. Women now outnumber men at universities, but such equality has been a hard fought battle as the Project's website notes:
Pioneers of secondary education for young women faced arguments from physicians and other "experts" who claimed either that females were incapable of intellectual development equal to men, or that they would be harmed by striving for it. Women's supposed intellectual and moral weakness was also used to argue against coeducation, which would surely be an assault on purity and femininity. Emma Willard, in her 1819 Plan for Improving Female Education, noted with derision the focus of women's "education" on fostering the display of youth and beauty, and asserted that women are "the companions, not the satellites of men"—"primary existences" whose education must prepare them to be full partners in life's journey.

While Harvard, the first college chartered in America, was founded in 1636, it would be almost two centuries before the founding of the first college to admit women—Oberlin, which was chartered in 1833. And even as "coeducation" grew, women's courses of study were often different from men's, and women's role models were few, as most faculty members were male. Harvard itself opened its "Annex" (Radcliffe) for women in 1879 rather than admit women to the men's college—and single-sex education remained the elite norm in the U.S. until the early 1970s. As coeducation took hold in the Ivy League, the number of women's colleges decreased steadily; those that remain still answer the need of young women to find their voices, and today's women's colleges enroll a far more diverse cross-section of the country than did the original Seven Sisters.

The equal opportunity to learn, taken for granted by most young women today, owes much to Title IX of the Education Codes of the Higher Education Act Amendments. This legislation, passed in 1972 and enacted in 1977, prohibited gender discrimination by federally funded institutions. It has become the primary tool for women's fuller participation in all aspects of education from scholarships, to facilities, to classes formerly closed to women. Indeed, it transformed the educational landscape of the United States within the span of a generation.

The Project will honor several women who have paved the way for American women to become more educated including Emma Hart Willard, who was a pioneering woman in secondary education for young women, and Anne Sullivan who is best known for teaching Helen Keller, but who also became very much a pioneer in disability education. Women have come a long way to shrink the gender gap in education due in large part to these women and legislation like Title IX, which will celebrate its fortieth anniversary in June.
As previously mentioned, women now comprise more than half of the student population in universities. Recent statistics calculated by the Census Bureau indicates that women hold the majority of bachelor's and advanced degrees in education and natural science obtained since 1984. The data also show disparities between the percentage of men and women seeking bachelor's and advanced degrees in business have decreased since the mid 1990s. In spite of these advances, women are still making less at every level of educational attainment. Increased education of women has yet to translate to increased economic empowerment. At the advanced degree level, men earn on average a median monthly income of $6,667 to the women's median monthly income of $5,000, an indication of the table from the census bureau shown below of median monthly incomes in 2009 of men and women of varying educational levels and fields: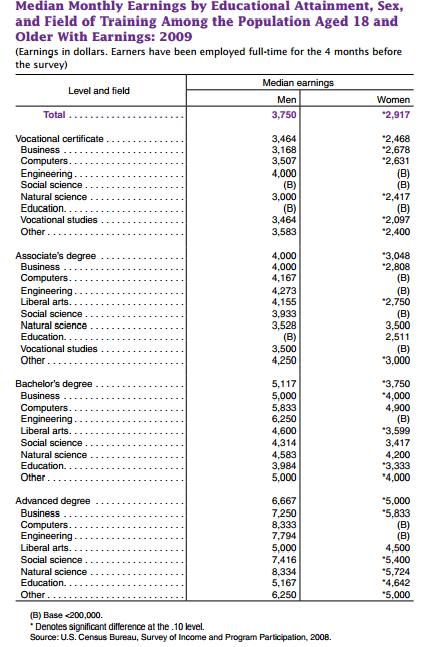 For all the sacrifices and advances in education made by women to date in our great country, economic empowerment of women as a result of increased education has not come to equitable fruition. This, in part, is The New Agenda's mission—economic empowerment. We may have come a long way, baby, but we've still got a long way to go.
Join Our Email List
Be the first to know the latest initiatives from The New Agenda to improve the lives of women and girls.