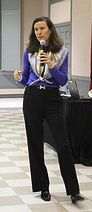 The opinions expressed herein are those of the author, and not necessarily those of The New Agenda. You can read about our Rutgers event in their school newspaper, the Targum: Speaker urges bridging of gender gap.
Amy Siskind's speech at Rutgers University's "The Girlfriend's Guide to Making It in the Real World" was one of the most empowering and unique speeches I've ever heard.  Thanks to the economy, most of the buzz around graduating and getting a job has been negative.  All I've heard recently was how I was not going to make it in the real world- that I was going to be part of the 85% of college graduates that move home, paying back historic levels of student debt, and be part of the growing number of unemployed college graduates.
Needless to say, these numbers have taken a huge toll on my confidence in graduating this May.  I found myself resolved to the idea that I am going to have to take a job like waitressing or babysitting once graduating.  And this after having three unpaid internships and a bachelor's degree!  I started to rethink and almost regret my decision to double major in English and Women & Gender studies.  While I love these majors, the only people I saw getting decent jobs were those in the math and sciences.
Amy's speech, however, was a wake-up call.  She made me realize that my destiny was not laid out for me because of statistics or other college graduates experiences.  While it is true that these barriers exist, I learned to see them as challenges that should not be the reason for me to give up or worry.   Amy stressed that to be successful, I need to brand myself to make any employer be devastated not to have me as their worker.  No matter what the statistics say, hard work is needed and valuable in any kind of economy.  This I know I have in me.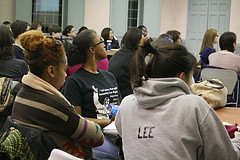 Even my major choice was not a barrier according to Amy.  While my majors suggest that I will be led into gendered jobs, Amy said that she has worked with people of all different major backgrounds on the trading floor at Wall Street.  "College, at the end of the day, teaches you how to think," she said.  While my heart is still set into non-profit work, it is comforting to know that I am not automatically disqualified for corporate work- whether because of my education or because of my gender.
Gender is definitely a factor in what college graduates are being told about the real world.  From my experience with my peers, men are not worrying or resigning to the idea they are going to have to take jobs that underutilize their skills.  Perhaps it is the privilege of their gender that they have more opportunities to advance despite the economy.  However, programs like The Girlfriends' Guide give young woman like me hope that we will one day be as equally economically empowered as men.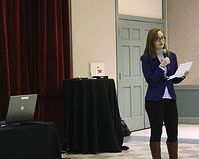 As a Women & Gender studies major and intern at various women's organizations, I have learned how important women connections are.  Amy shared how powerful networking is for the real world- "Women can build their brands through mentorships while keeping good relationships with peers" she said.  The New Agenda's The Mentor Exchange  is a valuable tool to gain these networks, brands, and knowledge.  I am one of the lucky Pioneer Mentorees, and am very excited to talk to my mentor, Jean Kilbourne, this month.  Imagine my awe when I saw her name on the mentor list after watching a documentary of hers in class!
I hope that this blog post can be read as a thank you note to Amy and the New Agenda for helping women like me.  I am more confident graduating this coming May, and am going to do whatever it takes not to be another statistic thanks to their words of wisdom.