The opinions expressed herein are those of the author, and not necessarily those of The New Agenda.
January was National Slavery and Trafficking Prevention Month, and it was in January that the governor of Indiana, Mitch Daniels, asked legislators to pass a bill to toughen state sex trafficking laws in time for Super Bowl weekend. 
The Chicago Tribune
 reports that "The Indiana House voted 93-0 in favor of the bill Friday that cleared the state Senate in a 48-0 vote earlier this month."  The bill will make it easier to prosecute those who are trafficking girls under the age of sixteen for sex, broadens the law for older victims, and "makes recruiting, transporting or harboring anyone younger than 16 for prostitution a felony punishable by 20 years to 50 years in prison."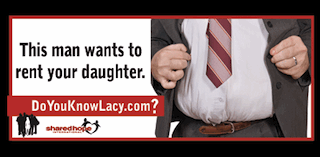 Authorities in Dallas, Texas were also aware of a possible influx of prostitution during the Super Bowl last year, warning that police would be vigilant about cracking down on traffickers selling children for sex.  In response, a writer for Dallas Observer News wrote a lengthy article on the "fallacy" of the sex trade during the Super Bowl. He wrote that fans have already paid through the nose for tickets, airfare, and hotels, leaving them little to no money for prostitutes. He cited a study conducted for the Dallas Women's Foundation as the sole resource for the "hype" over sex workers at the Super Bowl. The author questioned its validity because the researchers asked one hundred adults it to look at the girls' pictures and estimate their ages to determine how many girls are being sexually exploited on websites and in internet classified ads.
Near the end of the two-page article in the Dallas Observer, the reader finds the following: "Disclosure: The Dallas Observer and Backpage.com are owned by the same parent company,Village Voice Media Holdings."  Jim Larkin, one of the men who controls Village Voice Media, views this as an issue of free-speech. The New York Times interviewed him and wrote,
"We have always had a very libertarian approach to advertising," said Mr. Larkin, adding that classifieds represented 30 to 35 percent of their business. "We don't ban cigarettes, we take adult advertising. We take ads that sell guns."
Village Voice Media, makes more than $22 million per year from sex ads. Since Craigslist removed sex ads from their website (replacing it with the word "censorship"), Backpage.com has become the number one source for sex ads. A letter was written in December, 2011 to Jim Larkin and Village Voice Media calling on them to shut down their adult services ads. The letter outlines Village Voice Media's acknowledgement of their part in the child sex trafficking industry and was signed by numerous human rights, women's rights, religious, and anti-trafficking groups. It quotes a letter from the Attorney General, saying,
"In a meeting with the Washington State Attorney General's Office, Backpage.com vice president Carl Ferrer acknowledged that the company identifies more than 400 'adult services' posts every month that may involve minors." Furthermore, during the first eight months of 2011, Backpage.com reported to the National Center for Missing and Exploited Children (NCMEC) 1,595 cases of suspected use of juveniles in sex ads, as NCMEC has publicly stated.

Recently, a 13-year-old victim  was rescued when she bravely knocked on a random apartment door (instead of the john's) while her pimp waited in the car downstairs. The ad for her was on Backpage. Knowing this, however, Village Voice Media refuses to remove the ads, citing Section 230 of the Federal Communications Decency Act of 1996, which protects them from punishment for criminal wrongdoing if the ads on their site promote illegal activities. Even Google's hands aren't completely clean: they have been applauded for donating $11 million to anti-trafficking charities, yet a search on Google still yields thousands of ads for prostitution and porn.
The U.S. Department of Justice reports that "the Internet has also facilitated the recent rise in child sex tourism by providing a convenient marketing channel."  Diana Scimone of Orlando, Florida is an author and journalist who founded Born 2 Fly International, an organization dedicated to the prevention of child sex trafficking.  According to Scimone, the internet "makes it easier to advertise, buy, and sell." She says, "It's not just the Super Bowl, though there is a huge spike in ads on Craigslist and Backpage the week of the event. Any time there is a large event with a party atmosphere, there will be trafficking. And it doesn't have to be a sporting event."
National Human Trafficking Awareness month is over. Trafficking of young girls, however, will continue throughout the year. Despite the many measures taken to crack down on prostitution on Super Sunday, there will likely be a spike in young girls trafficked.
The Super Bowl is Sunday, February 5. Here are a few "Pre-Game Stats" from credible sources to consider:
The average age at which girls first become victims of prostitution is 12 – 14; for boys and transgendered youth it is 11 – 13 (US Dept. of Justice).
The sex trafficking industry is the 3rd largest illegal industry in the word, following very closely behind sales of illegal narcotics and firearms (Ibid.).
1 in 5 pornographic images is a child (Washington State Office of the Attorney General)
55% of child pornography comes from the United States (Ibid.).
Immigration and Customs Enforcement officials estimate trafficking of human beings as slaves brings in roughly $9.5 billion per year (MSNBC).
UNICEF estimates that 1.2 million children worldwide are trafficked for sex every year.
The U.S. State Department reports that 80% of trafficking (sex and labor) victims are females, and 70% of them are trafficked into the sex industry (Ibid.).
This does not just happen in other countries. The FBI estimates 293,000 children are at risk in the United States for becoming victims of human sex trafficking.
Victims of sex trafficking can be very difficult to rescue because they develop "Stockholm Syndrome" after having been abused over such a long period of time (FBI, Diana Scimone). The younger a girl becomes involved in prostitution, the more likely it is that she comes from a background of sexual abuse (U.S. Department of Health & Human Services).
Girls who are sexually abused are 28 times more likely to be arrested for prostitution (Ibid.).
Join Our Email List
Be the first to know the latest initiatives from The New Agenda to improve the lives of women and girls.