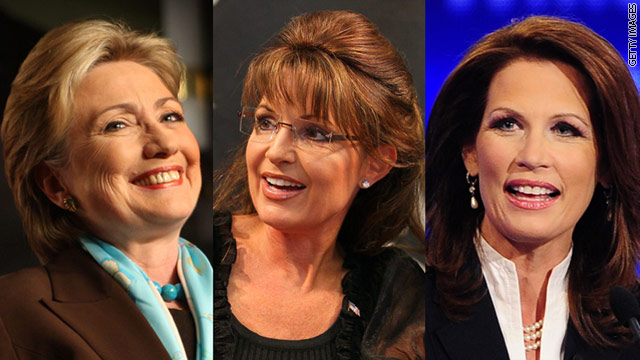 Over the last two weeks, as Newt Gingrich's nomination prospects have been falling, voters' dissatisfaction has been rising, and it has become clear that the presidential contest will likely be between incumbent President Barack Obama and former Massachusetts Governor Mitt Romney, an amazing thing has been happening.
Three women have been rising in the presidential field. Two are not even running.
Both Secretary of State Hillary Clinton and former Alaska Governor Sarah Palin are the subjects of media speculations and draft efforts from former supporters (see: Clinton, Clinton, Palin, and Palin). While neither Clinton nor Palin appears interested in joining the 2012 presidential fray, the desire for them to jump into the race seems to be more than what the Los Angeles Times deemed "the silly season" at work. Even though many – especially negative – presidential campaigns include moments of buyers' remorse, it isn't often that Americans have hoped their knight in shining armor would be a woman.
Perhaps it's because, as the Barbara Lee Family Foundation's research from the 2010 gubernatorial races found, "More than ever, gender has the potential to become a strategic asset for women running for executive office." Maybe it's because women in traditionally male dominated arenas like politics and sports are earning rave reviews (Governor Susana Martinez of New Mexico and Women's Soccer sensation Abby Wambach).
Or maybe it's because both Clinton and Palin are fighting "good fights," standing up for Americans in Washington and women around the world. They're using their voices to take on the powerful and support the underdogs. Who doesn't want more in their positions to show that kind of courage and leadership?
Whatever the cause of these presidential wishes, the trend appears to be helping Representative Michele Bachmann in Iowa. After having won the Ames Straw Poll in August, breaking that state's glass ceiling, Bachmann is again on the upswing. And Gingrich's patronizing treatment of her seems more likely to backfire on him than hurt her in the Hawkeye State on January 3rd.
Should Bachmann best Texas Governor Rick Perry and former Senator Rick Santorum, landing her in fourth place (or third, if Gingrich slips more) behind Romney, Representative Ron Paul, and Gingrich, she'd instantly become the surprise story out of Iowa, and in turn become Romney's most serious competition in South Carolina. Even though she may not prevail against Mitt's money and organization, Michele will have shown again that women not only deserve to be in presidential contests, but that they can be tough competitors. This is miles away from five years ago, before Clinton and Palin made their marks on the 2008 race. And it's something to celebrate as we roll in another election year!
Join Our Email List
Be the first to know the latest initiatives from The New Agenda to improve the lives of women and girls.