The opinions expressed herein are those of the author, and not necessarily those of The New Agenda.
Mary Johnson will discuss her memoir, Mother Teresa in Search of Love, Service, and an Authentic Life, at the Brooklyn Museum this Sunday, September 25, 2011 at 2:00 p.m. (

Travel directions

.)
My new book has a very girly cover. There's nothing inherently wrong about a book cover on which red and white petals fall on a panel of dark wood—but my book is about having been a nun for twenty years with Mother Teresa of Calcutta.
Let's be clear: I've never been a girly girl. Until I started doing public presentations under bright lights in my 50s, I'd never worn make-up. As a nun, I belonged to the most radical, get-your-hands-dirty-while-laboring-in-the-slums group that I could find. In high school I was on the debate team. You wouldn't have caught me dead in heels.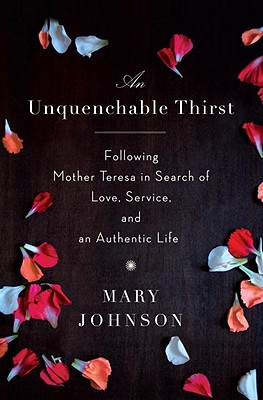 What were they thinking, putting flower petals on the cover of my memoir? I called my agent and told him I was afraid the cover screamed, "Men need not look at this book." He told me, "Mary, you have to face facts. Men are not going to read this book. I've read it—and I love it. Your husband has read it. Maybe your dad will read it, but you can't expect that most men are ever going to touch this book."
Infuriated, I took the mock-up to my local coffee shop, where I'd written much of the book over steaming tea and apricot scones. Yelcin, the German-born owner of the coffee shop, calls each person who walks through the door by name and knows who takes soy milk in her latte and which guy pays him only on Fridays.
Yelcin also reads. We'd discussed The Green Mile and McCullough's John Adams bio. He keeps the café's rack of news magazines meticulously current.
"Yelcin," I said, showing him the mock-up, "Would you pick this up in a bookstore?"
Yelcin peered at the cover, and took the book in hand while he heated my scone. "Never," he said. "But not because of the flowers."
He looked me straight in the eyes and said, without a touch of irony, "I never read books written by women."
Reeling, I grabbed my scone and took a seat by the window.
At the table next to me, a guy peered over a copy of National Geographic. "I don't read books by women, either," he said. "Women just complain. I get enough of that from my wife."
Other guys began to chime in. The only one who would admit to reading books by women was the teenager who helped in the kitchen. "When they're assigned," he said. "Last semester a story by Toni Morrison and last week a Canadian, Margaret something. Not bad," he said with a shrug.
The lone woman in the coffee shop willing to join the conversation countered, "But I read books by men and women."
"So do I," I said. "Do you guys think women have nothing to say?" The general consensus was that women had plenty to say and were always saying it. When a guy took time to read he wanted escape from women, not immersion in their words.
Despite my protests, my publisher went forward with the flowery cover. The advance Amazon reviews began pouring in. I was very heartened that so many readers seemed engaged by the book. Both men and women wrote paragraph after paragraph of fervent discussion. Not everyone used a full name, so it wasn't always possible to tell the reviewer's gender, but I began to discern a pattern.
A few men loved it and a few women found it offensive, but more often than not, women reviewing my book called it "gripping, important, a page turner," while men said, "not too much happens." Women called my book "authentic" and "courageous." Men called it "boring" and "too human."
A few years ago, researchers at Queen Mary College in London asked one hundred academics, critics and writers to discuss the books they'd read most recently. According to the Guardian, "four out of five men said the last novel they read was by a man, whereas women were almost as likely to have read a book by a male author as a female. When asked what novel by a woman they had read most recently, a majority of men found it hard to recall or could not answer."
I'm still not in love with my admittedly pretty book cover, but I'm willing to admit that its logic may reflect a sad truth: Too often, men still don't read women's stories, and when they do, they frequently find it hard to connect. In her book The Female Brain, Louann Brizendine explores the theory that men's relative paucity of mirror neurons renders difficult the empathy required to relate to characters different from themselves. Male author G. Neri claims that forcing high school boys to read Jane Austen before they're old enough to appreciate her permanently turns them off books written by women. All this means that I'll continue to advocate for a gender-neutral cover for my book. Maybe for the paperback—
Join Our Email List
Be the first to know the latest initiatives from The New Agenda to improve the lives of women and girls.