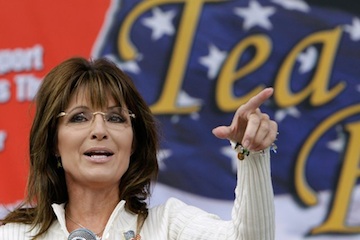 Sarah Palin had QUITE a day in Iowa on Saturday. That title of this post? That's the headline of the story published in the Washington Times, in which lively reporter Eric Golub describes the day and the message:
Despite torrential rains, Sarah Palin lit up the Iowa sky and lit into the failed Obama presidency.

It was an honor to be one of her "opening" acts.

I met Governor Palin for the first time recently at the Iowa State Fair. She is every bit as genuine as I expected. She is also a true conservative.

To understand Sarah Palin is to see a woman who is so despised by the liberal media that they will do anything to destroy her. MSNBC has morphed into Glenn Close from "Fatal Attraction," stalking Governor Palin and screaming that they will not be ignored.

The liberal media is angry that she refuses to tell them whether or not she is running for President. This is her decision, and she is under zero obligation to bend to anybody else's timetable. She is not the one begging reporters to cover her. It is not her problem that others are obsessed with her. …(Read all of Golub's post at the Washington Times' "The Tygrrr-Express" blog.)
Thanks to MrTimotheus85 who uploaded Sarah Palin's speech to YouTube on September 3, 2011. Here's Part 1:
Next up, parts 2 and 3:
Join Our Email List
Be the first to know the latest initiatives from The New Agenda to improve the lives of women and girls.