Three years ago today, a group of women from around the country sat in my living room.  The New Agenda was founded in tribute to Hillary Clinton and her herstorical 2008 presidential campaign.   We vowed that day:  "never again" will we be silent when a woman leader is mistreated.  We have lived up to that vow, and stayed true to our vision:  a voice for all women.
Fast forward.
This past year has been truly exceptional.  Our 5 favorite highlights include:
The New Agenda on Campus, our outreach to college and young women, was established.
Young Women  Leadership Council was formed to give young women leadership experience and ownership in our mission.
Searching for Sexism video series launched (episode 1 – Introduction, episode 2 – Women Politicians, episode 3 – Teen Girl Crisis and episode 4 – Evaporating Women on Wall Street).
The Mentor Exchange, a social media solution to provide career help to tens of thousands of women.  Funding provided by a grant from Staples Foundation.
Advisory Council, chaired by Betty Cotton, a leadership body of experts to aid our board, was established.  We're thrilled to welcome two more women with extraordinary talent:  Cathy O'Brien Yaffa (branding) and Becky Fleischauer (communications).
Finally, anyone who follows TNA, knows we love to celebrate.  And as we turn three years-old, we are proud to relaunch our TNA on Campus website: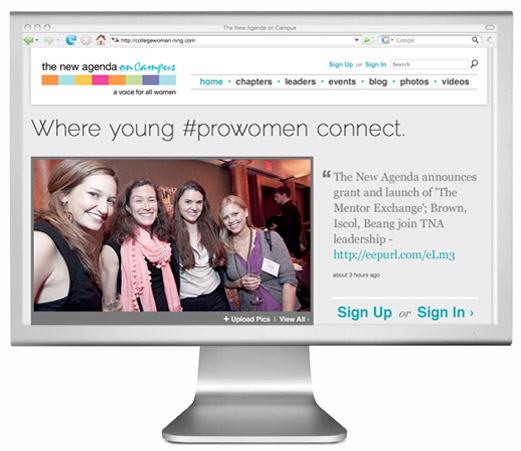 P.S.:  Mark you calendar for these upcoming events:
Young Women on Wall Street Event, October 13th
Villanova University, October 25th
Join Our Email List
Be the first to know the latest initiatives from The New Agenda to improve the lives of women and girls.