The opinions expressed herein are those of the author, and not necessarily those of The New Agenda.
When we think about internet pornography, we tend to think about people having sex and the objectification of women.  However, I was recently enlightened by a friend to a new aspect of internet pornography: rape.  While we were chatting, he showed me a free website that allows internet users to watch a large collection of adult videos that covered every possible fetish imaginable.  What he showed me next had me deeply disturbed.  There was a large selection of "rape" videos, many of which could pass for l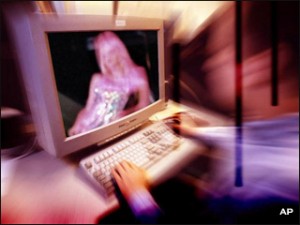 egitimate rape scenes with real struggles ensuing.  Most unsettling was the thought that anyone could access these videos, and that these websites are completely free of charge; a child would have no problem stumbling upon them.
This creates a new dilemma for women: the possible desensitization of boys and men to violent acts against women.  I have done much research on this subject, but to my surprise, there are very few studies available on the effects of such material.  Perhaps this is due to pornography only recently becoming easily accessible through the internet. What I have learned, however, is that watching violence on a regular basis does in fact desensitize the viewer, and by the end of most of these studies, the viewer had reported less feelings of sympathy for the victim.  Porn is only becoming increasingly violent to feed the addiction of its viewers; it is no longer satisfying enough for men to watch pornography that is consensual, with a man and a woman having sex on camera.  Men are demanding more violence, brutality, and humiliation in these videos to fulfill their urges.
However, the problem women face with violent pornography is not simply the fact that men watch it, but because it is extremely addicting.  It is this repeated exposure in which men can become dangerously desensitized.
"The experience of sexual arousal can be intense when viewing pornography, and as a result, an addiction can be very easily formed. To respond to the body's urges for "another hit" reinforces a habit that becomes extremely difficult to break. The combined physical and psychological responses to pornography make it "the crack cocaine of sexual addiction". Addiction itself develops through progressively dangerous stages: addiction, escalation, desensitization, and then acting out sexually. The dangers of pornography are evident with every stage more destructive than the one before."  "Pornography leaves the impression that sex is unrelated to love, commitment or marriage; and that irresponsible sex has no undesirable penalties. Desensitization of rape as a crime, misconceptions about the popularity of certain sexual practices, and a decrease in the care of female sexuality are additional effects of repeated viewing of pornography." (http://www.the-intimate-couple.com/dangers-of-pornography.html)
In a society where the respect of women is quickly diminishing, I believe that it is imperative that we take a stand against these violent acts.  By allowing these videos to continue generating viewers on the web, our society is supporting the raping and abuse of women.
Related Blogs/Articles:
Porn is Gender Violence
8 Reasons Eminem's Popularity is a Disaster for Women
Men and Porn