We urge our viewers to check out our Action Alert for more information on this issue.  Let your voice be heard!
The New Agenda Foundation and The Rebecca Project for Human Rights are working to get word out about Village Voice Media's Backpage.com and sex trafficking!  Time is of  the essence.  The Super Bowl is around the corner!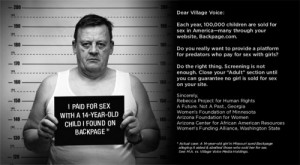 The Daily Caller article, Village Voice Media Under Fire for Sex Trafficking points out:
The organization that brought down Craigslist's "erotic services" section is targeting another alleged online under-aged sex traffic enabler — Village Voice Media's Backpage.com.

According to The Rebecca Project for Human Rights, Backpage.com has been negligent at best, complicit at worst, in allowing sex traffickers to advertise and pimp under-aged girls on its website.

Saar says that one of the major problems is that the Internet has created a much easier environment for illegal activity.

"Unfortunately what has played out, especially because of the Internet and because of the lack of punishment toward those who buy children, we are in a situation where too often we see [that] these very young girls are the ones who are being trafficked," Saar said. "That is a new reality. That is not part of what the landscape was even 10 years ago, and we really have to identify the contributing factors that have led to very young girls being the ones sold for sex and the leading causes are."
TNA's Amy Siskind adds:
People in our country are largely unaware of this crisis of young women and girls being trafficked and I think there is an assumption that, if it is happening, 'Well, it isn't our girls,' but it is a lot of women here in the U.S.," Siskind said. "The way the sex trade is driving is online and that is why the work Rebecca's Project did to shut down Craigslist was so important and a lot of that traffic dissipated but part of the traffic moved to the Village Voice, and they knowingly have been pimping young girls who have been forced into sex.
Steve Suskin, legal counsel for Village Voice Media, told TheDC:
Backpage.com is committed to preventing those who are intent on misusing the site for illegal purposes. Even one case of teenage prostitution is one too many. For that reason, Backpage.com works closely with law enforcement in helping them bring these perpetrators to justice.
You can read the entire article here.
Now we need your help!
Contact the staff at Village Voice Media and let them know what you think!
Carl Ferrer, Head of BackPage.com
602-271-0040
carl.ferrer@backpage.com
Joe Larkin
Senior VP of Sales Operations
602-229-8452
joe.larkin@voicemediagroup.com
Susan Belair
Senior VP of Sales
212-475-2529
sue.belair@voicemediagroup.com
Jim Larkin
Chairman and Chief Executive Officer
888-278-9866
jim.larkin@voicemediagroup.com