Hat tip to our friends at Hardy Girl Healthy Women for sharing this disturbing ad for Beymen Blender, a pop-up store in Istanbul, Turkey.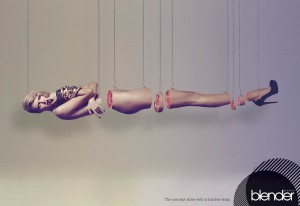 The tag line with this disturbing photo reads:  "The concept store with a butcher shop."
Blogger Susannah Breslin at The Frisky writes:
…one could say it's misogynist, offensive, or a series of other criticisms, yet what if you take it to the bottom line: Does seeing this chopped-up, butchered woman hanging from meat hooks make you want to go buy clothes? I can't parse it if I try. She's naked so … I should cover myself up? Or someone will chop me up?
Precisely.
Just who is this ad meant to appeal to?