The blogosphere civil war continues unabated:  is Sarah Palin worthy of the mantra of "feminist?"   How about those other Republican women on the rise?  Are they just sullying the f-word for women on the left?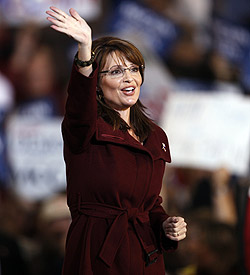 Meanwhile, Sarah Palin, seemingly unfazed by this whole debate, marches forward in her role as a leader of her party.   Palin is busy emerging, evolving and redefining.
Maybe it's my training on Wall Street, but I for one like to see results.  Early in my career, a colleague of mine once told me:  speak softly and point to the score board. Meaning, while all the cave men were occupying themselves by pounding their chests, I was quietly accomplishing and succeeding (and becoming the cave men's boss).
So for all these caught up in extolling feminist relativism – here's Palin who is busy accomplishing.  Taking action.  Palin is not only supporting women; but doing so in a nuanced fashion.
Last week, Palin endorsed 3 more women candidates: Cathy McMorris Rodgers (WA), Star Parker (CA) and Mary Fallin (OK).  Here's the lead in on her Facebook page:
Obviously not waiting for another bear to do the work for them, the mama bears not only foraged for themselves to prepare for winter, but they worked twice as hard to slay salmon for their cubs, too, making sure the future of the population was ready for the season ahead. She would instinctively rear up on hind legs when her cubs were threatened – you don't mess with her cubs. And most importantly, just as the well known modern proverb expresses, she didn't just hand over a free fish for the day – she taught young ones how to fish for a lifetime.
Here's the best part of her endorsement:  she left the divisive topic of abortion out!  Yes!  Finally!
And I know I'll take a lot of heat for saying this from our fans who are pro-life, but I ask you this:  how can you be critical of liberal "feminists" who excluded you all those years over the issue of abortion, then, turn around and do the same right back?
Palin's message here is spot on.  She is supporting these women, in part, because she understands what so many of us have discovered: the fraternity of leadership is a failing proposition.  Women's clean sweep in the June 8th primaries tell us that our country is ready for change of the gender variety.
So while Palin praises the candidates on their backgrounds, accomplishments and views on the issues — she is evolving.  She is figuring out that, yes, she can personally be pro-life.  But if she truly wants to capture the women's vote, en masse, she'll need to nuance her approach.
This is not a trick.  This is a realization of a central premise of the "Pro-Women" movement:  finding common ground.   And if Palin keeps this up, this is a model for getting women into the White House!
P.S.: Good luck today to one of Palin's Mama Grizzlies – Nikki Haley who is in a run-off in South Carolina to become the Republican candidate and on her way to possibly becoming that state's first woman governor: run, Nikki, run!