The opinions expressed herein are those of the author, and not necessarily those of The New Agenda.
We are currently gathering a list for action against Glenn Beck. Our fight against sexism continues. We defend women of all parties, and we protest against sexism from all parties. The sexism is nearly identical across the board. Let me share some similarities with you.
On November 7, 2008, Chris Matthews described Hillary Clinton as giving a
"barn-burner speech, which is harder to give for a woman; it can grate on some men when they listen to it — fingernails on a blackboard." When contemplating Clinton debates, he asked, "How does she do it without screaming? How does she do it without becoming grating?"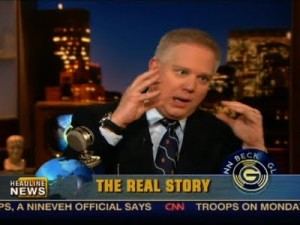 Beck said similar:
"Hillary Clinton cannot be elected president because … there's something about her vocal range," and went on to say, "There's something about her voice that just drives me — it's not what she says, it's how she says it," adding, "She is like the stereotypical — excuse the expression, but this is the way to — she's the stereotypical bitch, you know what I mean?"
On the other hand when Chris Matthews who is well-known for his leg tingles came to view Hillary Clinton as a stripper, he praised her,
"didn't you think she had a nice, mellifluous voice there? She was calm, she was charming, her hair looked just to be cosmetic, her hair looked great, she looked great."

Just like Chris Matthews, Glenn Beck also has leg tingles. While an anchor on CNN, he told co-worker Erica Hill that she looked "hot in leather" At first, she regarded it as a simple compliment but became increasingly uncomfortable until his tingles took control:
BECK: You are looking hot in leather.
HILL: Well, thank you, Beck. I'll be on your show every night just for that.
BECK: Oh, yeah! I'm wearing leather pants right now —
HILL: That's more information —
BECK: Oh, no, I'm not wearing pants.
HILL: OK, that was definitely more information than I needed.
BECK: What did we have in the news today, Erica?
Given his uncontrollable leg tingle with Erica Hill, we can easily infer what was truly happening in his mind when he referred to Sarah Palin as "One Hot Grandma" in their first interview on his Fox TV show.
Exactly as with Chris Matthews flipping over Hillary Clinton, Glenn Beck flipped around the sexism from viewing her as a sex object to an irritating annoyance.
Beck-Palin, I'll consider. But Palin-Beck…Can you imagine, can you imagine what an administration with the two of us would be like? What? Come on – she'd be yapping or something, and I'd say, 'I'm sorry, why am I hearing your voice? I'm not in the kitchen.'
Feminist-friendly "masculinity has always been disturbing to the anxious idiots of the punditry, who think that manhood is such a fragile thing it has to be constantly propped up by stomping on women."
A more detailed sponsor list is currently in the works. If you have any additional information concerning these sponsors, please state it in the comments.
Imperial Structured Settlements
701 Park of Commerce Blvd, Suite 301
Boca Raton, Fl 33487
Toll Free: 866.744.9935
Fax: 866.704.0772
info@imprl.com
http://www.imperialstructuredsettlements.com/
IRSTaxAgreements
1-888-550-1540
http://irstaxagreements.com/
Liberty Medical
http://www.libertymedical.com/contact/
Office of the President
Liberty Medical Supply
10400 South Federal Highway
Port St. Lucie, Florida 34952
Medco Health Solutions, Inc
Phone: 1 201 269-4279
E-mail: investor_relations@medco.com
Medco Public Affairs:
E-mail: media@medco.com
Web: www.medco.com/media
Merit Financial
1300 4th Street
Suite 303
Santa Monica, CA 90401
Phone 310.394.7577
Fax 310.393.7020
http://www.meritfinancial.com/Contact_Us.aspx
The National Republican Trust PAC
2100 M St. NW Suite 170-340
Washington, DC 20037-1233
http://nationalrepublicantrust.com/contactus.html
Publishers Clearinghouse
382 Channel Dr.
Port Washington, NY 11050
http://www.facebook.com/pages/Publishers-Clearing-House/42789325785?v=box_3
http://twitter.com/ pchwinningways
http://www.pch.com
Move Free Advanced
Schiff Nutrition International, Inc.
1-800-526-6251
http://www.movefreeadvanced.com/contact.asp
Wholesale Direct Metals, Inc.
15200 Sunset Blvd. Suite 202
Pacific Palisades, CA 90272
tel: (866) 925-6626
fax: (310) 454-2194
info@wholesaledirectmetals.com
https://twitter.com/wdmgold
http://www.wholesaledirectmetals.net/contact-us.php
Join Our Email List
Be the first to know the latest initiatives from The New Agenda to improve the lives of women and girls.