The opinions expressed herein are those of the author, and not necessarily those of The New Agenda.
In an earlier post, Hughes explained perfectly well why Kay Bailey Hutchison is the perfect pro-woman candidate who will work for benefit of all women. Kay Bailey Hutchinson understands the importance of bi-partisanship. Women's rights should never be a partisan issue. Now, I want to explain why Kay Bailey Hutchison is the perfect pro-Texan candidate who will work for the benefit of all Texans and why Rick Perry is anti-Texan.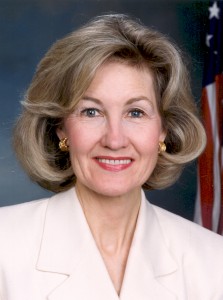 Few citizens in Texas like Rick Perry's policies. In 2003, he received $175 billion from the company CINTRA to build the Trans-Texas corridor that would take away over 584,000 acres of the people's land through eminent domain to create a massive system of tollroads costing 10-20 cents per mile as opposed to the normal four cents per mile.
According to David M. Bresnahan of the Texas Toll Party, once the state legally takes away people's land using "eminent domain" statutes, land and natural resources will be "turned over to private corporations to make profits."
Bresnahan reported that over 30 counties have formally opposed the construction of the Trans-Texas Corridor.

According to Jerome Corsi, as many as one million people will be displaced from their current residences by the corridor construction, and "dozens of small towns in Texas will be virtually obliterated in the path of the advancing TTC behemoth."
Shortly after the controversy over Perry's corrosive corridor began, I became of legal age to vote. I cast my voice to decide the 2004 election, but I had to wait for the next Gubernatorial election. In 2006, I joined 60% of Texans in voting against Perry. I voted for Democrat Chris Bell. Unfortunately, that 60% was split between three other candidates, one who treated politics as a joke and another who was full of bombastic gimmicky language.
the "Top 10" TxDOT maintanence and construction contractors gave $1.1 million in political contributions between 2001 and 2004, the period when Trans-Texas Corridor plans were first being solidified by TxDOT officials. In apparent exchange for this financial support, TxDOT officials (appointed by elected representatives) awarded these 10 companies over $6,000 million dollars in contracts to build and maintain roads
For years, Rick Perry has shown complete disregard for the well-being of the citizens of Texas. The corrosive corridor has been labeled dead but then revived twice during Perry's time.
Kay Bailey Hutchison's policies are the anti-thesis of Perry's. As a Texan woman, I am honored to see another Texan woman defend the rights of our people and our way of life. Kay Bailey has the support of the Texas Farm Bureau and TFB's Friends of Agriculture Fund Inc. (AGFUND), which acts as the organization's PAC. Legislation to protect property rights has been consistently vetoed by Perry, AGFUND believes Kay Bailey will enable such legislation to pass:
"AGFUND's support of Kay Bailey Hutchison as the next governor of Texas is a matter of trust," Dierschke said. "We've always been able to take Sen. Hutchison at her word, and she will do more of the same as governor of Texas at a time that is of critical importance to farmers, ranchers and property owners in our state."
Property rights have been among her most important concerns. She voted against a border fence because "it would have allowed: government disregard for the opinion of private property owners and cities on the Rio Grande who would be affected by the fence."
Perry killed the corridor soon after the Farm Bureau's endorsement of Kay Bailey – a purely political move for appeasement that I am certain will revive again. Rick Perry's corrosive corridor would bankrupt Texas, but Kay Bailey Hutchison has always strived to maintain a balanced budget. When she entered Congress for its 104th session, she immediately joined fellow members of Congress in striving to balance the budget and cut taxes. She wanted to amend the Constitution with S.J.RES.1 to mandate a balanced budget. In S.J.RES.49, she tried to make raising taxes more difficult by requiring a two-thirds majority for future tax increase bills. She was only one of four who sponsored S.202 that would decrease federal spending by $41,000,000,000 until the budget was balanced.
In the 111th session, she sponsored S.35 "to provide a permanent deduction for State and local general sales taxes" and S.47 "to amend the Internal Revenue Code of 1986 to repeal the excise tax on telephone and other communication services."
There are plenty of people who doubt women and who consider women selfish and petty. However, the history has shown Rick Perry to be the selfish and petty politician with Kay Bailey Hutchison the champion of the people. Cast your doubts aside! Kay Bailey knows the importance of business in creating jobs, and she knows her position is to work for the people. I am proud of Kay Bailey Hutchinson, and I always will be proud of her.