The opinions expressed herein are those of the author, and not necessarily those of The New Agenda.
The night of December 8, 2009 was an extraordinary moment of victory for the people of Massachusetts.  This was the night the first woman received the democratic nomination for U.S. Senate in Massachusetts—Martha Coakley!  Many of us, have dedicated our lives for years to see this moment, and other important moments to help wonderful woman leaders like Martha Coakley rise as national leaders.  This was a very special moment for women in Massachusetts.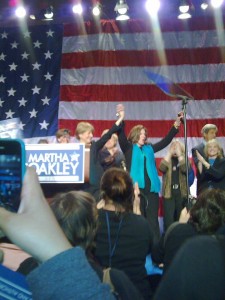 I along with other countless other women and men, made the phone calls necessary to ensure Martha's vote came out, on the first primary to be held in December—where we had low voter turn-out.  I was amazed at the level of organization of the Coakley Campaign.  In my 41 years of involvement, I have never seen a statewide campaign so well organized.  Kudos to the Coakley Campaign!  Former President Bill Clinton and Gloria Steinem made recorded phone messages urging voters to support Martha Coakley.
This victory was sweet.  In 2008, we watched both of our U.S. Senators and our Governor Deval Patrick bypass Senator Hillary Clinton, in her quest for the democratic presidential nomination, even though Hillary Clinton won the Massachusetts Democratic Primary.  As a delegate, Martha Coakley supported Hillary Clinton at the Convention.
In 2009, we watched nearly all of the Massachusetts congressional delegation endorse Martha Coakley's male opponents in the democratic primary, including Congressman Barney Frank.  Only one wise woman Congresswoman, Nikki Tsongas, endorsed Martha Coakley.
Women across America donated money through Emily's List to help Martha Coakley win the Democratic Primary here in Massachusetts.  So, as a Massachusetts woman, I want to say thank you for everyone who helped.  And because of your support, we are closer than ever to the first woman Senator from Massachusetts—Martha Coakley!  Even though all of our democratic public officials have now endorsed Martha, it's still up to women to see that Martha Coakley gets elected as the next U.S. Senator from Massachusetts. The final election is on January 19th!
Because we are once again expecting a low voter turnout, Martha needs all of our help to get her message out.   Please contribute to Martha through Emily's List or go to MarthaCoakley.com to make a donation.
Thank you again for your help. This is a victory that women across America can be proud of
Join Our Email List
Be the first to know the latest initiatives from The New Agenda to improve the lives of women and girls.