The opinions expressed herein are those of the author, and not necessarily those of The New Agenda.
Kay Bailey Hutchison was born on July 22, 1943 in Galveston. She is the first woman Senator from Texas. She graduated with a BA from the University of Texas in 1962 and went to the University of Texas School of Law where she received her J.D in 1967.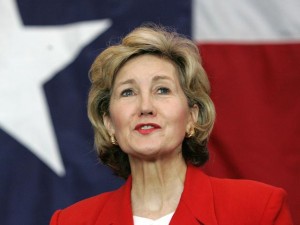 Kay attributes her success to her supportive parents and particularly to her feminist-thinking father:
While I didn't have the lofty ambitions, I did have the encouragement every step of the way that whatever crazy thing I was doing at the time that girls weren't really doing, he was there and supportive. And that was enormously helpful, because some of my friends' fathers wouldn't let them go to college.
Instead of going to law, she was soon hired to work for the TV program "The Eyes of Texas" and became the state's first television newswoman . In 1971, she met Anne Armstrong who inspired her to leave journalism and enter politics.
In 1972, she ran for the state House and was elected. She served until 1976 when she was appointed to the National Transportation Safety Board. She served on the board for two years. Around that time, she entered banking and became a successful businesswoman in that field. After gaining plenty of financial experience, she ran for the office of state treasurer and won the election in 1990. In 1993, she won a special election to replace Lloyd Bentsen in the Senate, thus becoming the first woman from Texas to serve in the national senate.
Trouble befell soon after her victory when she was accused of using:
…state equipment and employees on state time to help with her campaign. She was indicted by a grand jury in September, 1993 for official misconduct and records tampering.
…a termagant who verbally and physically abused her staff, including testimony that while in a tirade, she hit executive assistant Sharon Connally Ammann.
Fortunately, she was acquitted on all accounts.
This past congressional session, she has dedicated herself to lowering taxes. On the sixth of January this year, she introduced S.35 to "provide a permanent deduction for State and local general sales taxes." On the same day, she sponsored S.74 to "provide permanent tax relief from the marriage penalty. "
She is an advocate for women, our military, and the working class. In the 111th session, she sponsored:
S.614 : A bill to award a Congressional Gold Medal to the Women Airforce Service Pilots ("WASP").
In the 110th session:
S.2575 : to remove certain limitations on the transfer of entitlement to basic educational assistance under Montgomery GI Bill
S.3262 : to reauthorize the women's entrepreneurial development programs of the Small Business Administration
Kay Bailey supports alternative fuel sources as seen in 110th session "S.1020 : to move toward energy independence through a coordinated development of renewable energy sources, including wave, solar, wind, geothermal, and biofuels production," as well as increased domestic drilling for oil as seen in S.AMDT.867 to S.CON.RES.13 which is to "reduce U.S. dependence on foreign energy sources, minimize future gasoline price increases and reduce the federal budget deficit through expanded oil and gas production on the Outer Continental Shelf."
All these bills can be found under the search engine Thomas.gov
At a recent conference in a Women's History Museum, Kay Bailey said this about women in politics:
Women have a collaborative style of management and working. And it's not that we agree on everything, because I think our voting records would be really very opposite, but we look for the places where we have agreement and we build on that. And I think we've been able to be effective where we have had those types of opportunities.
So I think the more women we can have in our – especially in our legislative bodies, because in the legislature it's so important that you have all the different experiences coming together, because then you will come out with an answer that is going to take into account the most of the people and the concerns that they have in this country.
When Kay Bailey announced she was running for the Governor of Texas, incumbent Rick Perry scoffed and said she would change her mind, but Kay Bailey refuted his disbelief:
I have said pretty clearly that [campaigning is] what I'm going to do. I think I can help Texas now and take our state into the real areas that need to have leadership.
Join Our Email List
Be the first to know the latest initiatives from The New Agenda to improve the lives of women and girls.