When Vice President Biden announced last week the appointment of Lynn Rosenthal as White House Advisor on Violence Against Women, most of the mainstream media reported (if anything) only Biden's brief allusion to the Bush administration.  With the exception of Karen Travers, what the media didn't report was that Biden (who authored the original VAW Act) made substantive and heartfelt remarks about his (and Rosenthal's) commitment to eradicating violence.  Here are excerpts.
My father was the one who taught me that the single most serious sin a man or woman can commit is to abuse power.  And the ultimate abuse of power is violence against women.  It has such incredible, incredible negative ramifications for generations that follow…
The vast majority of men that are in prison, behind bars for having committed a violent crime, they only have two things in common, basically:  one, they can't read and two, they witnessed their mother being abused or they were abused themselves.  It's totally counter-intuitive to people not in the field.  They think, "God Almighty if you saw you mother being abused, [that's] the last thing you would do."  But it's a learned behavior…
If you could wave a wand, If God came down and said, "Joe, you get one wish," I'd say, "end violence against women,"  not just because I find it so repugnant, but because it has the single most significant impact on violence in America, against all people — against men, against women, against children…
There can be no — NO — excuses, NONE, for domestic violence, NONE.
…This isn't a negotiable thing.  There isn't some violence that's permissible.  There isn't some pushing or shoving or intimidation.  It's just simply, simply, simply never justified…
One in four women are affected by violence in their home.  And our goal is to bring that literally to zero in four.  We know we can't get it perfect, but that has to be the goal.  That has to be the measure by which we measure ourselves…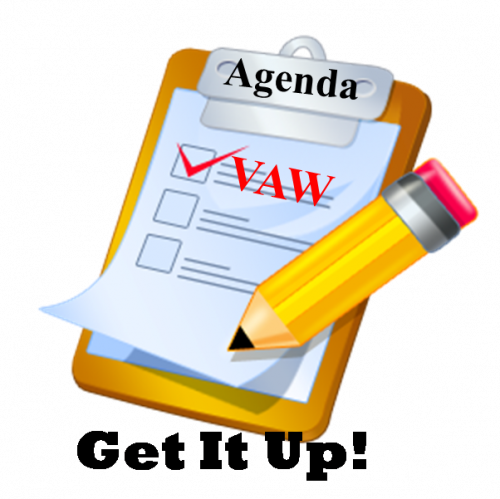 [Government] departments… in fact can do so much just by refocusing  (like they did in the Clinton administration)  to make sure that domestic violence and sexual assault are on the top of the agenda… I think the first thing that we've got to do is just put this back in play… Just get it up on the agenda.  Get every secretary in the cabinet thinking about it….
Each year America reports 48 million incidents of violence coming from an intimate partner, and, you know, 48 million.  Think about that.  [This is] the scary part: we don't even know how many more million are never reported… Now, the one good thing about bringing this out of the shadows, this dirty little secret, is  more and more and more and more women are coming forward…
The worst imprisonment in the world is being imprisoned in your own home.  The most vicious of all crimes are "quote" domestic crimes…
Watch the entire speech here:

Join Our Email List
Be the first to know the latest initiatives from The New Agenda to improve the lives of women and girls.