Sharp-eyed readers have let us know about three concerns we haven't had time to cover this week: a Jack-In-The Box commercial calling menopausal women "Street-Rat Crazy," biased media treatment of reality show Jon & Kate Plus 8 star Kate Gosselin, and reports of another Hustler porn video starring a Sarah Palin look-alike.
After our coverage of Burger King's sexualization of girls and Wendy's positive role models, Ellen D. posted:
OK – would someone please comment on why we aren't going after Jack in the Box for their commercial showing a woman going through menopause as "Street Rat Crazy"?
A sampling of reactions:
Sooooo, without the Jack in the Box smoothie, a menopausal woman is "street rat crazy" but if she drinks them she can have a vacant stare and frozen smile? Awesome. (sarcastic) – SBG on The Hathor Legacy

Just for fun, try switching the sexes. If this commercial were making light of, say erectile dysfunction (Can't get it up? Try our new Bacon Grease Burger!) how would men react to it? – Pocket Nerd on the Hathor Legacy

I'm sorry, but I'm in full blown menopause with terrific hot flashes and the crazies, and I absolutely loved the commercial. We need to just laugh sometimes, and I was honestly impressed that someone finally recognized and actually had the guts to talk about menopause. – Anonymous at EmpowHer

I do believe it's an unannounced race between marketing companies to see who can be the biggest asshole – Misty on Shakesville
Another reader contacted us about the media coverage of Kate Gosselin, co-star of TLC's reality show Jon & Kate Plus 8, about a family with twins and sextuplets. When the series began, Kate was a full-time mom and Jon an IT analyst. Then Jon lost his job and became "Mr. Mom," while Kate began a book-writing career that requires promotional travel. Our reader explains:
There is a lot of press coming out about this and people seem to think that it is okay to ridicule this woman because she was on the road making money for her family and it is being construed that she is abandoning her kids.
Rumors have both members of the couple straying. Compare the his and hers coverage in US Magazine:
… US Weekly has shocking, exclusive pictures of the Jon & Kate Plus 8 dad leaving a club at 2 a.m. – with a mystery woman and without his wedding band… Where was his wife Kate – known for her insults and who famously once berated him for breathing on the show? Nearly 2,000 miles away promoting her book…

Kate Gosselin stepped out with her bodyguard Steve Neild in Maryland Tuesday night – as US weekly exclusively reveals. They have an "inseparable" relationship that causes friends – and even her husband, Jon – to wonder if they're having an affair… Gosselin donned a skin-tight miniskirt, bright red leather jacket and oversized sunglasses to walk through Baltimore's airport (en route to a promotional appearance in Michigan) with Neild… (Meanwhile, Jon was spotted with their kids at a church near their home…)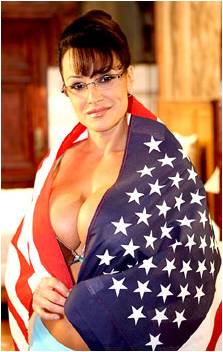 Finally, Bruce Nahin alerted us to internet reports that Hustler is making a sequel to their Who's Nailin' Paylin video, again starring Sarah Palin look-alike Lisa Ann (along with look-alikes for David Hasselhoff and Lindsay Lohan). The plot? After losing the vice-presidential election, "Paylin" heads for Hollywood and auditions to become a star. As Josh Loposer of babble.com points out:
With two of Sarah's daughters in public school – Willow, 14, and Piper, 8 – you've got to know they are the butt of some Nailin' Palin jokes. Not to mention, other parents joking behind your back at the PTA meetings and hockey games.
Thank you so much, readers, for raising these issues.  Keep 'em coming!  And please let us know whether and how you'd like to be credited in our coverage.  Send tips or blog submissions to blog@thenewagenda.net .
Join Our Email List
Be the first to know the latest initiatives from The New Agenda to improve the lives of women and girls.