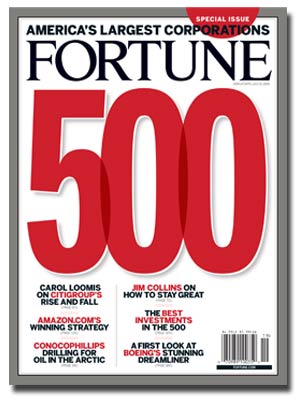 Yesterday Fortune Magazine came out with a story titled: Fortune 500 CEOs: Women on the rise. The story posits:
But the news about women is positive: A record 15 female CEOs populate the latest Fortune 500.
Excuse me for being one to rain on the parade; but I find it hard to get too excited about this notion. After all, only 15 of the 500 CEOs are women – this means that 485 of the CEOs are men. So we get up to 3% and this is cause for celebration?
Being an ex Wall Street executive, I have also watched as any and all hopes of a woman taking the helm of a major bank have fizzled. I wrote a piece in October titled Wall Street without its three top women in which I highlighted the firings of one of my mentors, Zoe Cruz from Morgan Stanley, along with Eric Callan from Lehman and Sally Krawcheck from Citibank. So maybe I'm just experiencing some sour grapes?
After all, our friends at The Daily Beast seem giddy over this record number:
So the men of corporate America created the financial mess. Big surprise. Can the growing ranks of female CEOs help clean up the mess? The latest Fortune 500 rankings show a record number of women are running top companies. And while many of these women pull in relatively modest salaries, some of their companies are weathering the economic storm with relative ease. Our bet? A portfolio of the companies run by these low-testosterone executives could outperform the Fortune 500 next year.
And many of the folks at The New Agenda seemed pretty excited about this development as well – lots of "yeah's".  After all, this is a step forward.  Nina even posited the notion of a fund devoted to investing in women run companies.  Maybe I just had too many crunch berries in my cereal this morning.
What do you think?