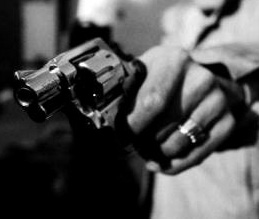 We had some great news earlier this week from the Supreme Court:  in a 7 – 2 ruling, the Court rejected a challenge that would have made it easier for individuals convicted of domestic violence to own firearms.
In United States v. Hayes, the Court considered the scope of the Lautenberg Amendment, which prohibits any person convicted of "misdemeanor crimes of domestic violence" from owning a firearm.   This amendment, authored by Senator Frank Lautenberg of New Jersey and passed by Congress in 1996, closed a loophole in the Gun Control Act of 1968, which prohibits convicted felons from owning guns.  Since many states classify "domestic violence" crimes as misdemeanors rather than felonies, the original federal law did not prevent violent partners from acquiring guns.
The ruling this week stems from a decision in April 2007 in which the United States Court of Appeals for the Fourth Circuit ruled in favor of Randy Hayes, a man who had been convicted under West Virginia law for misdemeanor assault and battery against a woman to whom he was married.  
Years after this conviction, police were called to Hayes' home to investigate another violent domestic altercation.  At that time police learned that Hayes owned three guns.  Hayes was arrested and subsequently convicted of illegal firearms possession under the federal law created by the Lautenberg Amendment.  
Lawyers for Hayes argued that the federal law was meant to apply only to individuals convicted of crimes specifically described as "domestic violence."  Because the West Virginia state law under which Hayes was first convicted barred assault and battery in general, and does not use the term "domestic violence" specifically, Hayes' position was that the federal law should not apply. 
Justice Ruth Bader Ginsburg wrote the majority opinion, which holds that the federal law applies to anyone convicted of  using physical force or the threatened use of a deadly weapon against a person with whom the perpetrator has a "domestic relationship."  Justice Ginsburg was joined by six of her colleagues.  Only Chief Justice John Roberts and Justice Antonin Scalia dissented; they argued that the federal law should be read narrowly and literally as applying only to those people convicted specifically of "domestic violence," rather than assault and battery against a domestic partner.
In a brief filed with the Court, the Brady Center to Prevent Gun Violence pointed to
"the great danger that armed abusers pose to family members of these abusers as well as law enforcement officers summoned to address such violence.  On average, more than three people are killed by intimate partners every day in this country.   Intimate partner homicides account for up to one-half of all homicides of females.   Every year between 1,000 and 1,600 women die at the hands of their male partners, and 14 percent of all police officer deaths occurred during a response to domestic violence calls."
The groups that joined the Brady Center's brief are the International Association of Chiefs of Police, Major Cities Chiefs, National Sheriffs' Association, National Organization of Black Law Enforcement Executives, Hispanic American Police Command Officers Association, Police Executive Research Forum, National Black Police Association, National Latino Peace Officers Association, Legal Community Against Violence, and the School Safety Advocacy Council.
 On the opposing side, the Eagle Forum filed a brief that presented, among other ideas, a states' rights argument:
"The statute seeks to regulate criminal behavior within the context of domestic relationships.  As this Court [previously] observed… both are matters that were traditionally reserved to the States… the government's expansive interpretation would impose a federal prohibition on gun ownership for all individuals convicted of misdemeanors that happen to involve a domestic relationship, rather than allowing the states to determine whether such a prohibition should apply by defining specific crimes having as an element a domestic relationship between the perpetrator and the victim."
The Eagle Forum brief also wrote that the "policy concerns" raised by the Brady Center are "incomplete and irrelevant," because
"the court of appeals' interpretation would only impact the minority of domestic abusers who have actually been convicted of a predicate offense.  Even the proponents of [the federal law] recognized that the statute—no matter how it is interpreted—would not have a significant effect on the underlying problem due to the limited prosecution of domestic violence. 

Thus, for example, Senator Murray, one of the co-sponsors of the original bill stated: 'Unfortunately, this amendment will not make life better for many women who are abused, even when guns are present in the home. We know that most domestic violence is not even reported, and of the cases that are reported, many do not lead to a conviction…'

As Senator Murray observed, the vast majority of domestic violence incidents are never reported.  Of those that are reported, the vast majority do not lead to conviction.  Accordingly, the threshold requirements for [the federal law] are seldom satisfied."
The Second Amendment Foundation (SAF) filed a separate brief that argued in favor of Hayes' position on the basis of the Second Amendment to the Constitution.  SAF argued that the Second Amendment not only defends the right to bear arms as part of a well regulated militia, but also for the purpose of self-preservation and self-defense. They identified self-preservation and self-defense as not-literally-stated rights that are rooted in the umbrella right to "personal autonomy." 
Among the precedents that demonstrate the Court's deference to the right to personal autonomy, SAF cited cases including Cruzan v Director of Missouri Department of Health (a right-to-die case), Eisenstadt v Baird (right of unmarried people to use contraception), Lawrence v Texas (consensual sexual activity), and Planned Parenthood v Casey (right to decide to terminate a pregnancy).
Join Our Email List
Be the first to know the latest initiatives from The New Agenda to improve the lives of women and girls.