Editor's note: The New Agenda congratulates Hillary Clinton on her confirmation as the new Secretary of State. The Senate approval vote was 94-2.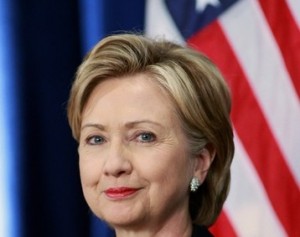 In her confirmation testimony before the Senate, and again in a speech she gave celebrating Emily's List, Hillary Clinton has signaled her intention to use her role as Secretary of State to advance the status of women around the world. Although I understand that many people reading this would rather have her as President, I think it might be fair to say that she will be freer as Secretary of State to focus on issues of particular importance to women, rather than juggling priorities, as President Obama may find himself doing in the immediate future. She's certainly going to do a better job in the position than Joe Biden would have, even if the Bidens persist in gaffing her in the back.
She has the potential to be the most visible and effective Secretary of State of all time, and she can get there with our help, and by "our" I mean most feminists. I really think working for her success might be something many of us can unite behind. This would be good for Hillary Clinton, and in my view, a way to at least start to bridge some of the recent history that divides us.
If she flourishes in the role, as I fully expect her to, it will positively remind everyone of her talent and abilities. The more odious Obamabots would need to stop hating on her (or at least ramp it down), since dumping all over an effective cabinet member would be stupid and counter-productive, and would actually make Obama look bad. Her achievements would also be an emphatic "eff you" to her harshest critics. Succeeding is a wonderful form of revenge — no pesky bloodstains and all kinds of rewards.
By the same token, fans of the new President can also root for Clinton's success in office, since it will at least partially redound to Obama's benefit. (And if this idea makes you bristle, take a deep breath and re-read the "eff you" discussion in the previous paragraph.) Thus people wanting Hillary Clinton to succeed as Secretary of State to help Obama, and people wanting her to succeed in order to spite Obama, can work together toward the same goal.
So I hope we'll all think about channeling some of our feminist energies toward helping Hillary Clinton succeed as Secretary of State, by doing things like blogging about her initiatives, or commenting positively about them at other blogs, to keep the profile of her work high. There will also be opportunities to productively volunteer to help with some of her programs directly — hopefully this page will contain more information about that once she is confirmed.

This post is in honor of the memory of Coretta Scott King, who "never let a day go by without doing something, even one thing, in the pursuit of progress."
Join Our Email List
Be the first to know the latest initiatives from The New Agenda to improve the lives of women and girls.